This article covers 5 simple SEO tips that could help you increase your site's search visibility in Google, Bing and other search engines. We've tried and tested all these tips, so you can rest assured the advice suits the latest search engine guidelines and algorithms.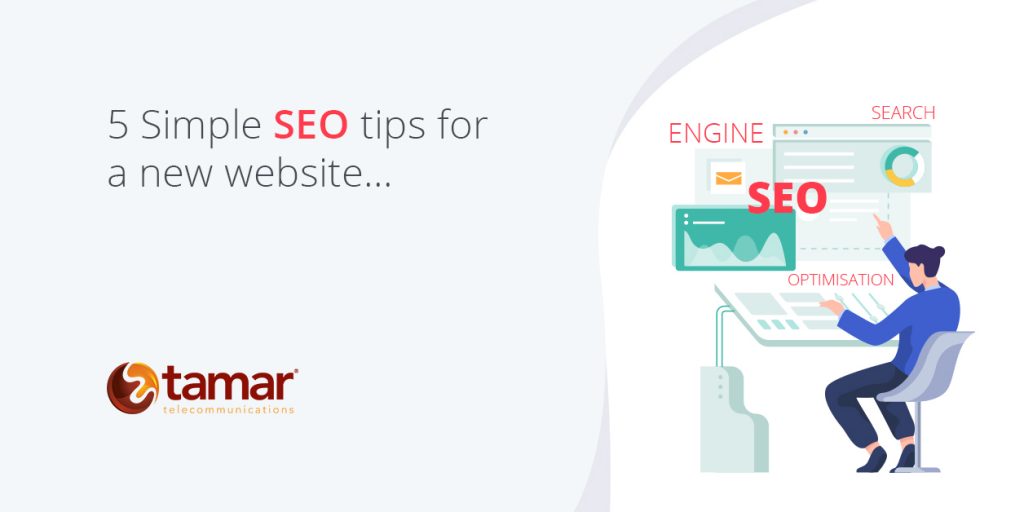 Tip #1: Check how search engines "see" your website
Before we start discussing exciting things like SEO tools and keywords, we need to make sure your website is being "seen" properly by Google and other search engines.
This step is crucial, as some websites that look fine to human eyes might seem wrong from a search engine's perspective.
The easiest way to check how search engines see your site is to sign up to Google Search Console. This will enable you to take several actions that will be important to future search performance, including:
● Submitting your website's sitemap to Google (this helps the search engine understand the site).
● Scan your site for errors affecting search performance.
● Find out which pages of your site might cause problems for visitors using mobile devices.
If you can find the time, we would also recommend signing up to Bing's equivalent of Search Console, Bing Webmaster Tools.
Bing has a 4.4% share of UK search queries, which represents a volume of search traffic that's well worth targeting.
Tip #2: Optimising for target search keywords
You can't have simple SEO tips without keywords. Keywords still have a role to play in SEO, despite measures taken recently by search engines to clamp down on spammy techniques like "keyword stuffing".
To use keywords effectively, we suggest you think of them as customer requirements that your content should answer, rather than specific words that need to appear frequently in your content. So, if you believe customers want to learn how to set up a business telephone number, you'd create the content to answer that question; or if they wanted to learn how to make a great omelette, you'd answer that question instead.
Today's search marketers typically use two types of keyword to structure each piece of content:
● Primary keywords succinctly define the purpose of the content. There is usually just one primary keyword, which will appear in the title of the content.
● Secondary keywords are other keywords relating closely to the primary keyword. These are often used to define the detail of the content. You might use them as the basis for the sub-headers of the content, or you might briefly mention them in the copy. Never add a secondary keyword to content if it doesn't feel like a natural fit, as this can do more harm than good from an SEO perspective.
Don't worry about using exact keywords all the time. Search engines are increasingly capable of understanding the semantics of content, and this now allows them to make their calculations based on the meaning of what is written on a webpage, rather than the exact words and characters used.
Tip #3: Come up with a content strategy
Thinking carefully about how content will be published on your site could greatly affect the site's ability to attract search traffic.
A good content strategy model to try is Hero-Hub-Hygiene (H-H-H). This splits content into three categories:
● Hero – 'super' content that takes up a relatively large share of your content creation resources, and is presented prominently on your website. Hero content should encapsulate what's special about the brand.
● Hygiene – everyday content that keeps visitors updated and engaged with your brand.
● Hub – evergreen content published on static parts of the website. This might include guides and documentation.
A three-pronged H-H-H approach to content can equip a website to serve customers at different points in the sales journey, from discovering the brand, through learning about its products, to making the decision to buy.
Of course, H-H-H is just one of many possible content strategies a website could use. Whichever approach you take, be aware that the best content strategies evolve over time. Try to update your strategy continuously, based on analysis of which tactics seem to get the best results for you. This brings us on to our fourth point…
Tip #4: Measure and learn
Every business could benefit from using a web analytics tool to measure activity on its website. These tools help you see how many people are visiting each page, how they arrived at the website (directly, from social, from a search engine, etc.), and even details like a visitor's location and the type of device they are using to browse the internet. A great free web analytics tool is Google Analytics.
Web analytics gives us lots of ways to work out how to do better SEO for a specific website. It can tell us:
● How much organic search traffic is each webpage attracting?
● How much traffic is coming from each search engine?
● Which content is bringing in visitors who eventually make a purchase?
● How long do visitors stay on the website after arriving via web search?
Every website will require a bespoke SEO strategy in order to achieve its potential. The way to identify that strategy is to routinely monitor key performance metrics using web analytics, then take insights away from your analysis and apply them to future SEO strategy.
Tip #5: Explore some SEO tools
SEO tools can be a great source of ideas, insights and efficiency savings.
For ideas on content and keywords, we can recommend Answer The Public. You simply type a keyword into the tool, and it then gives you lots of related search queries people are asking about the relevant subject. This can really help with identifying secondary keywords or subheaders for a piece of content.
Start by trying the free version of the tool, then consider paying for a Pro subscription if you'd like to use Answer The Public's full range of features.
If you plan on investing a lot of resources into your website's SEO, you might also consider using an SEO toolkit such as Moz or Raven Tools. These toolkits cover a wide range of key SEO requirements, including monitoring your site's search performance, and identifying website errors that might be causing problems.
That's just a few simple SEO tips to get you started. Bare in mind search engine optimisation is constantly evolving and it's important to try and stay up to date.