ISDN Switch Off
From 2023 there is a hard stop-sell on traditional phone lines, known nationally as the ISDN Switch Off. From 2025 the network will be ceased entirely. You will need to upgrade your phone system as soon as possible to avoid any disturbances to your business. Don't worry, switching now is likely going to save you a lot of money!
What is the ISDN switch off?
Put simply, many current phone, CCTV and even security systems run on a copper based PSTN and ISDN network. This network will be turned off in 2025. This means any systems you currently have using these lines will cease working. You will need to switch to handsets that can use IP (internet protocol).
Don't panic, most businesses will save money by switching to Virtual Numbers, so many have already made the switch to a future proof system.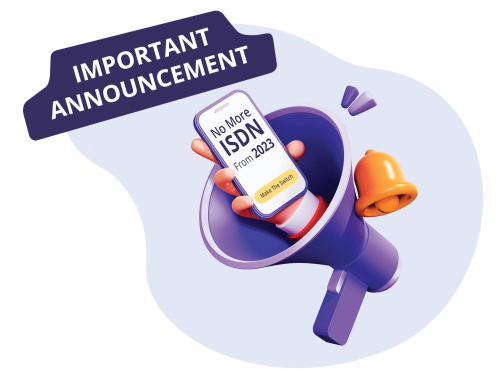 Why
Switch Now?

The switch off is already happening
As of September 2023 there is a stop sell on all IDSN lines. Don't wait for the inevitable last-minute rush and risk delays.

Save money!
The good news is, our Virtual Landlines are incredible value and most customers switching to us will save money.

Ultimate flexibility
Virtual Numbers can grow with your business and provide solutions for even the most complex requirements.

Keep your number
No need to change your business number. We'll port your existing number to us to keep everything as simple as possible
Why is ISDN being switched off?
BT understands the need to move with the times. The network is outdated and difficult to maintain and with traditional phone usage changing globally to mobile and internet communications, moving forward is the only sensible option. See what Ofcom have said.
What's it going to cost me?
We have plans to suit any business size from as little as £5.50, no long contracts or hidden costs. You can view all our tariffs here. Every number comes with over 10 free features to tailor your setup, so you can make your business number work harder for your business.
What do I need to do for the ISDN switch off?
You'll need to move to a provider that allows you to internet to make calls. We're offering all businesses having to update their systems free porting. Simply fill in a quick form on our website and we'll bring your existing numbers over to Tamar with no interruptions to your business.
Simple, affordable, and future proof.

Fill out the form below to start moving your existing phone numbers to your new, future proof Tamar Phone System!