Call Whisper
Separate Personal & Business Calls
The Call Whisper service plays a short message to the person answering the call before the caller is connected. There are two ways to use the Call Whisper service. The first plays the Whisper message followed by a beep; the call is then automatically connected.
The second plays the Whisper message and then gives the person answering the call the option to accept the call by pressing 1, or to ignore the call by hanging up. When the call is ignored, the number will automatically try the next number where two or more destination numbers are present. Where there are no further numbers to try, the caller would be sent to voicemail.
Call Whisper
Only £3.31 /month
Identify business calls
Press 1 to accept calls
Answer calls professionally
See which of your numbers has been called
How Call Whisper Can Help
The press-to-accept version of the Call Whisper service acts as call screening, allowing you to decide whether to accept the call or not.
The Call Whisper message is only played to the person who answers the call and not to the caller. The caller just hears ringing as usual until the call is answered.
The Call Whisper service is available for £3.31 +VAT per month per number. Simply select Call Whisper during the order process, or contact customer services to have Call Whisper added to an existing Tamar Telecommunications number, via our contact us page.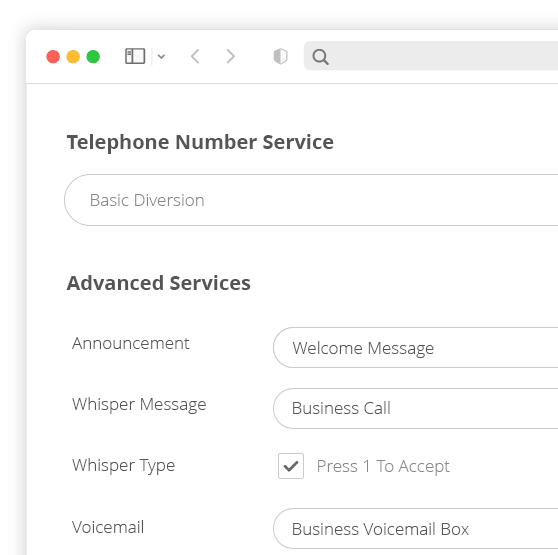 Examples Of How Call Whisper Can Be Used
To identify whether it's a business call or personal call on a mobile phone that's used for both business and personal calls. Once the Call Whisper has informed you that it's a business call, you can then answer the call professionally in your business name.
To identify which area the call relates to. This is very useful when advertising different numbers for several local areas.
To identify which business name to answer the phone in. Useful for people that operate more than one business through one telephone line. You can then answer the phone in the correct business name.
To identify which advert or publication a caller is responding to. "Nottingham Yellow Pages Advert" or "Newspaper advert" for example.