Need some Christmas party ideas? Work Christmas parties will need to be a little different this year. Due to the Covid-19 pandemic, many teams will be holding their parties remotely, with attendees joining from their own homes via video call.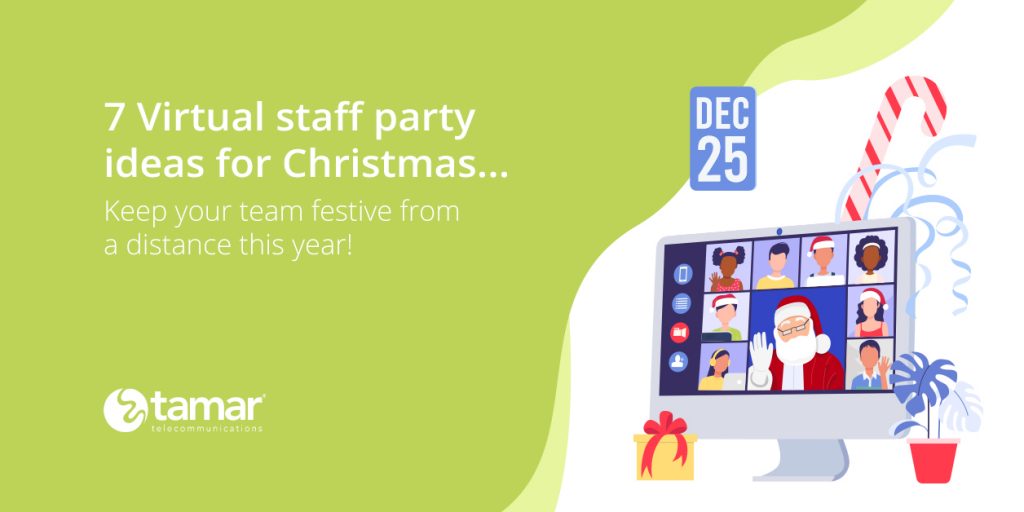 In our view, these strange circumstances make throwing a successful Christmas party more important than ever. A fun festive shindig could be just the thing to improve morale during what could be a challenging winter.
We've brought together this list of socially-distanced Christmas party ideas for homeworking staff, so you can bring plenty of good cheer to employees who are working from home.
All the party ideas in this guide are designed to be done via video conferencing. You'll need to set everyone up in a chat on Zoom, Google Hangouts or a similar application to facilitate the party.
1. Drinks tasting
A guided drinks tasting could be just the thing to make your team Christmas party a merry one. All it takes is the following steps:
Hire a virtual tasting provider who can lead the tasting session. This person might be referred to as a sommelier.
Send drinks and snacks through the post to each team member. The drinks could be wines, spirits, beers or non-alcoholic alternatives. Be sure to include snacks, as these will act as palate cleansers between drinks. Often, the virtual tasting provider will curate and supply the drinks and nibbles on your behalf.
Set up a conference call for the party.
There's a good chance someone on your team won't want to drink alcohol, so be sure to include some non-alcoholic options if you're going ahead with this activity.
2. Everyone brings a party game
"Crowdsource" your Christmas party by asking each person to prepare an activity or game for everyone to join in with.
You may want to give team members some examples to help them come up with their own ideas – anything from scavenger hunts to charades.
If your team enjoys doing quizzes, you can apply the "crowdsourcing" idea to creating a quiz. Ask each team member to submit a round of questions and answers before the party, and then compile those answers ready for the event. Each person will need to act as the quizmaster during their round.
3. Wreath-making workshop
One of the few positives to come out of this year is that many people have found time for creative hobbies. Why not tap into this trend by involving a wreath-making challenge in your Christmas party?
You'll need to get the materials for your wreaths posted out to team members in advance, to ensure everyone can take part. Each team member should have the following items:
Wreath frame
Adhesive
Artificial holly (real holly might be too tricky to work with)
Other decorative materials such as foliage and tinsel
The easiest way to get all these materials together is to buy a wreath-making pack for each team member. Check to ensure all the necessary components are included before you order!
If you'd like to add an element of competition to your wreath-making session, you could get the team to vote on which is their favourite wreath. The winner gets a prize.
4. Festive fancy dress
Ask your team to come to their virtual Christmas party dressed in a festive-themed costume. From elves and Father Christmasses to Christmas trees and candy canes, there are loads of options available.
To help each team member create an extra-special outfit, consider giving them a small budget for materials. An easy way to do this is providing vouchers for an online retailer such as Hobbycraft or Amazon.
You can add an element of competition by having the team vote on their favourite costume at the party. The winners can be awarded prizes, bragging rights, or both!

5. A slap-up meal from home
Some companies are kind enough to take their employees out for dinner as part of their Christmas party. This seems unlikely to be a viable option in 2020.
However, there are still options available if you'd like to treat your team to a nice meal. Why not send each person a Christmas hamper, if you're going to spend less than usual on your party? JustEat or Deliveroo vouchers could hit the spot, too.
6. Christmas karaoke
The more extroverted personalities on your team will no doubt leap at the chance to sing a Christmas classic at your homeworking party.
Throwing a karaoke party via video call can be pretty simple. All you need to do is use a group viewing application, such as Watch2Gether, and use it to queue up karaoke backing track versions of songs from YouTube. We recommend testing the songs in Watch2Gether before the party, as some videos might not play due to licensing restrictions.
With your songs and software set up, all that's left is for each participating team member to sing their song while on-camera and on-mic.
For more on hosting a karaoke party via video conferencing, read WIRED's guide.
7. Ask your team!
According to Perkbox, 60% of employers don't ask their employees about what they would like to do at their Christmas party. This is a missed opportunity to make the party perfect for your team!
As part of your party planning, try asking team members what they think the party should be like. This should give you some fresh ideas to consider, and it may help you finetune any details which you are unsure about.
Now you have some Christmas party ideas to get you started. Christmas 2020 is not going to be an ordinary holiday – but that doesn't mean to say your party can't be extraordinarily fun.
From all at Tamar Telecommunications, we wish you a Merry Christmas party, and a bright New Year!