Want to start marketing your business? Try one of these easy marketing tactics every day for the next week. They're all user-friendly, and they could all help you get your business noticed.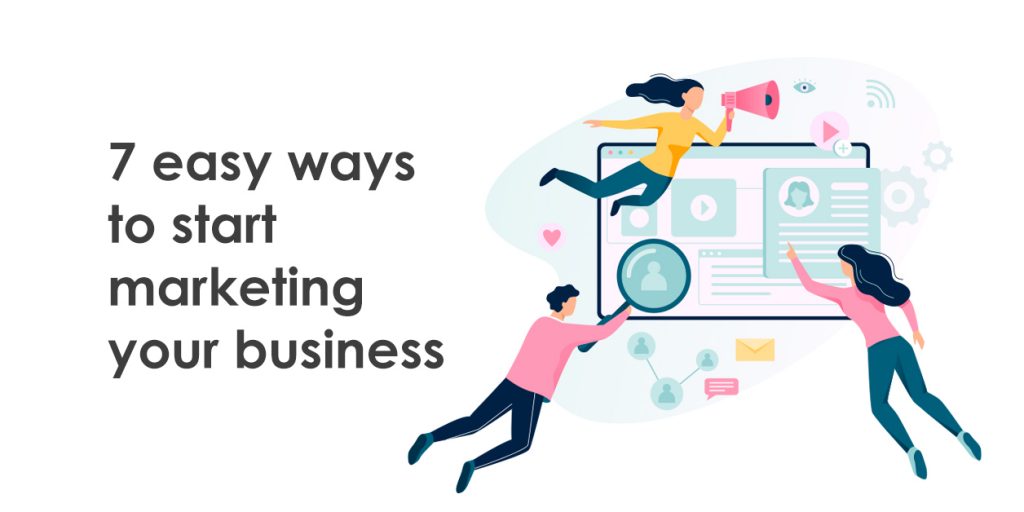 1. Add the business to online directories
Online directories such as Google My Business and Yell are a key resource for people seeking a certain type of business or service. Listing your business on these sites is an easy way to start marketing your business that will make you more visible to potential customers.
Adding a business to an online directory is usually relatively simple. Just make sure you have confirmed your business telephone number and address, as this will ensure you don't need to go back and ask for your listings to be edited.
Links to listings sign-up pages:
• Google My Business
• Yell
• Bing Places
• Yelp
• Thomson Local
Try to make a note of which directories you have added your business to. This will come in handy if you ever need to edit a listing, to reflect a change in your business hours or contact details.
2. Set up your social media accounts
From accountancy firms to zoologists, just about every type of business is now promoted via social media.
We recommend starting out by choosing one or two social media platforms that seem like a good fit for your business, which you can focus on building up first.
Broadly speaking, Facebook and Instagram tend to be the most important social media for business-to-consumer companies, while business-to-business companies should prioritise Twitter and LinkedIn. It's possible that your business type will be an exception to this rule, so do some research into which platforms other businesses like yours are using if you are unsure.
Once you've chosen your social platform(s), you can move on to creating your account(s) with all the relevant info and imagery. Bear in mind that you will likely need a professional business logo and some high-quality photographs, in order to create a good impression.
The next step is building your audience – a process you can start by inviting friends and family to like/follow the account. All the big social platforms have easy ways to help you do this.
Set up a:
• Facebook business page
• Twitter profile
• LinkedIn business page
• Instagram profile
3. Start engaging with online contacts
There's a good chance that lots of people are talking about topics relevant to your business, right now. It might be taking place on social channels like Reddit or in YouTube comments, on Twitter hashtags or LinkedIn posts, or in the comment sections of articles. Wherever the discussion is happening, there's a chance that you would have something useful to add to the conversation.
Try searching the web for social media/forum conversations about your industry, and try adding input from your business's perspective, wherever you think it's appropriate to do so. This can help put your brand name in front of potential customers and contacts, without costing you a penny.
Engaging in online conversations is a particularly important tactic for lead generation in B2B sales. Commenting on a potential sales lead's content increases their awareness of your brand – so if you pitch to them in future, you won't be coming at it cold.
4. Say hi to your local or trade press
PR is all about relationships with the media. By making a strong connection with someone at a local or trade publication that's relevant to your business, you will likely increase your chance of getting great coverage somewhere down the line.
If you are running a B2C company with a bricks-and-mortar presence, there's a decent chance your work will be relevant to your local newspaper. Or, if you're a B2B service provider, the most relevant publication might be a trade publication specialising in your business type.
Find a journalist who writes about businesses like yours, try to find their email or phone contact, and get in touch to introduce yourself and the business. Better still, invite them to visit your premises or try out your products or services. Make a good impression, and the chances are that the journalist will be far more responsive to your communications in future.
5. Respond to journalist requests
Every day, journalists from the UK's leading TV, print and radio news providers post requests for comment online. These callouts are commonly referred to as journo requests.
The easiest place to find journo requests is the #journorequest hashtag on Twitter. Other options include ResponseSource and the LIGHTBULB – Entrepreneur & Press Hangout group on Facebook.
At the time of writing, we spotted requests including callouts for a life coach to comment on New Year's resolutions, food products to be reviewed in a newspaper, and blockchain experts to comment on cryptocurrency accounting. This is just a small sample of the vast array of subject areas that crop up in journo requests.
Responding to journo requests can lead to a wide variety of coverage, including news articles, blog mentions, radio and podcast appearances and more.

6. Start building an email mailing list
Email marketing is one of the most efficient ways to tell large numbers of customers about a business's latest news and promotions.
Per the rules of the GDPR, businesses can only send marketing emails to people who have given consent for their contact details to be stored and used in that way. This means businesses need to collect customer's emails via a sign-up mechanism that demonstrates their consent, which could range from a signup sheet kept in a shopfront to a subscribe form on a website.
It's never too early to start adding people to your email mailing list (which might just be an Excel spreadsheet at this stage). Start asking customers to sign up, and remember to let them know that subscribers will get early or exclusive access to your best promotions.
The more people you have on your mailing list, the greater the potential your email marketing will have once you've got it up and running.
7. Do it the old-fashioned way
Not all marketing needs to happen online.
In fact, traditional promotional methods such as handing out flyers, pinning contact details on community notice boards and giving away free samples on the street can still be a big help when it comes to attracting business and getting your brand out there.
Identify the places in your area where other independent businesses are advertising their wares, then put your business out there alongside them.
So there you have it, 7 ways to start marketing your business today!