SKYDIVER ABI'S DARING JUMP RAISES £1,000 FOR A VERY SPECIAL CHARITY FUND!
Daredevil fundraiser Abi Lintin has successfully completed a 15,000ft skydive in memory of a former colleague – and raised more than a £1,000 in aid of a fund set up in his name.
Abi,25, decided to make the brave jump to raise money for the Paul Cupis Fund, which was set up by her employers Tamar Telecommunications in October last year following Paul's death from a brain tumour four months earlier at the age of just 32.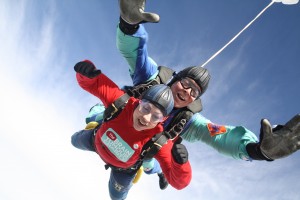 The fund is working with the Brain Tumour Charity to raise money to fund research and vital new equipment to help in the early diagnosis of the condition, which could save lives.
Recently Abi's colleagues at Tamar Telecommunications – which provides businesses with a wide range of telecom products and services – also raised £200 in aid of the fund by selling cakes to employees at Plymouth Science Park, where the company is based.
Reliving her momentous leap Abi, said it was 'simply amazing'.
"To be honest, when I first arrived I was very nervous and didn't know if I could go through with it, but after the briefing and meeting my skydive instructor I felt a lot more relaxed," said Abi.
"When I finally did jump it was the best feeling ever. The skydive itself seemed to be over in seconds and then I just enjoyed the relaxing parachute ride down. We even went over a rainbow which was incredible!
"I know Paul would have been really impressed I managed to do it and I can't thank people enough for sponsoring me and helping me to reach my target."
Paul had agreed to take part in a trial to help develop high definition MRI equipment prior to his death. He died just three weeks after he was diagnosed with what doctors thought was a benign tumour and only days before he was due to undergo surgery to have it removed.
Subsequently it was found that Paul's tumour was far more serious and this may have shown up on the MRI equipment which, had it been available, may have allowed for speedier and more effective treatment.
Since the fund was set up, more than £8,000 has been raised towards a target of £10,000. There have been donations from Paul's family, including £1,600 from his sister Helen Cupis and her colleagues at Royal Bank of Scotland.
• Anyone wishing to make a donation to the fund can visit Abi's justgiving page www.justgiving.com/Abi-Lintin