Courageous Abi Lintin is making a 10,000ft skydive in memory of former colleague Paul Cupis who lost his life to a brain tumour.
Abi, 25, a customer services team leader at Plymouth-based Tamar Telecommunications, will make her daring leap at Honiton Airfield on April 12 and hopes to raise £1,000 for the Paul Cupis Fund, set up by the company in October 2013 after Paul's death four months earlier.
Staff at Tamar Telecommunications – which provides businesses with a wide range of telecom products and services – established the fund to support the Brain Tumour Charity's research work.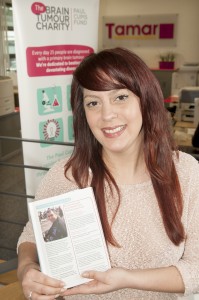 Paul had agreed to take part in a trial to help develop high definition MRI equipment prior to his death at the age of 32. He died just three weeks after he was diagnosed with what doctors thought was a benign tumour and only days before he was due to undergo surgery to have it removed.
Subsequently it was found that Paul's tumour was far more serious and this may have shown up on the MRI equipment which, had it been available, may have allowed for speedier and more effective treatment.
Those behind the fund say fundraising for further research and new specialised equipment is vital and may help to save lives through earlier diagnosis of those sufferers in a similar position to Paul.
Abi said Paul always put others before himself and was a great supporter of charities, so she decided she wanted to give something back in his memory.
"I had a built a very good friendship with Paul both inside and outside of work. He was a great listener and a great advice giver, one of those people you could tell anything and everything to," said Abi, who is the sister of Tamar Telecommunications Director Kevin Christoforou.
"It is so important to raise money for this particular fund as brain tumours are the biggest cancer killer of children and adults under 40. It is an amazing cause and I am glad to be a part of it."
Abi has set up a justgiving page www.justgiving.com/Abi-Lintin to attract sponsors for the leap and it is also being promoted via the Paul Cupis Fund Twitter account and Facebook page, where there is information on other fundraising events.
Since the fund was set up, more than £6,000 has been raised towards a target of £10,000. There have been donations from Paul's family, including £1,600 from his sister Helen Cupis and her colleagues at Royal Bank of Scotland.
Fundraisers have held a variety of events, including collections at supermarkets and shopping centres, and a black tie ball is among the other planned events for this year.