Your business name affects how customers feel about the business, and how they interpret what you do. It might even have an impact on their buying behaviour.
The fact business names matter so much makes it all the harder to choose one for your own business. If this is the problem you're facing right now, this article is here to help.
Let's go through 5 top tips for generating a business name, from competitor analysis to free online business name generator tools.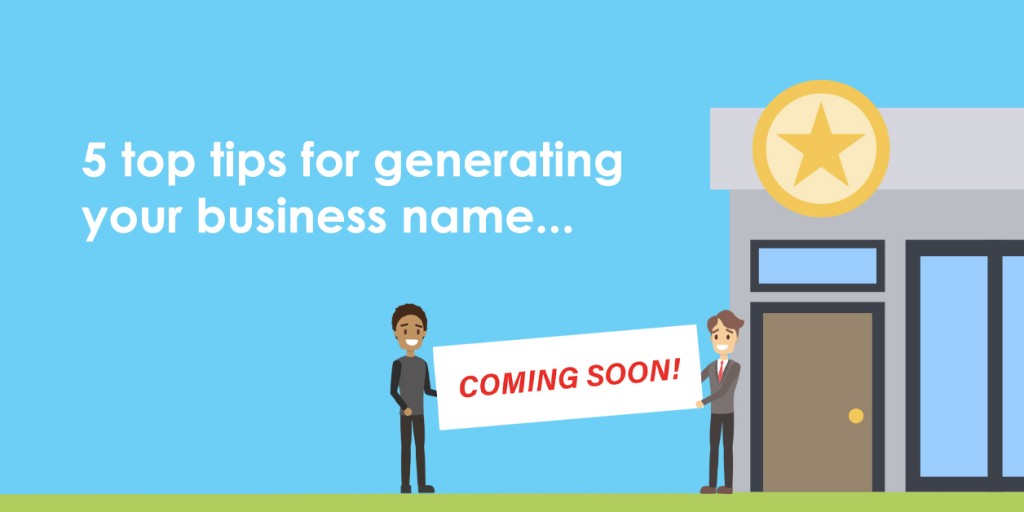 1. Analyse the names of similar businesses
A good business name will usually give consumers some idea of what the business is. In some cases, that means taking a descriptive approach, as in 'Tamar Telecommunications' or 'WeBuyAnyCar.com'.
Alternatively, you might use evocative language in a similar way to other businesses in the same field. This approach is commonly used by carmakers, fashion brands, tech companies and fragrance brands.
The best way to create a business name that gives an accurate impression of the business is to analyse the names of other businesses in the same space, then use any trends you can identify to help decide your own business name.
Here are a few examples of popular naming trends:
• Alphanumeric names (e.g. A1 Professional Cleaning, T3 technology magazine);
• Evocative language (commonly used by fashion brands and carmakers, e.g. Gucci Rush Eau de Toilette, Range Rover Evoque;
• Family names (commonly found in bakeries, footwear brands, confectionary brands, cafes, law firms and many more types of business);
• Elements of digital communication, such as text speak (Phones4U) or web URL features (FunkyPigeon.com);
• Descriptive names.
Think about what the names of other brands in your sector have in common, and how the trends you identify could be applied to your business.
2. Use your value proposition as a basis for your brand name
Some of the best brand names reference the business's key value proposition to customers:
• JustEat delivers takeaways to people who just want to eat, without the cooking and washing up that comes with preparing a meal.
• Hellofresh posts meal kits with fresh ingredients to subscribers' homes.
• EasyJet makes air travel simple, supposedly.
Occasionally, brands take the opposite route and reference customer pain points, as is the case with the insurance comparison site Confused.com.
A good way to come up with value proposition-based business names like these is to survey consumers on how they would describe a business that does a great job of providing the relevant service. You might use questions like: "Name three words you'd use to describe a really effective [XXXX] service."
Once you've gathered your responses, pick out the positive language that could fit into a new brand name.
3. Use an online business name generator
Shopify's Business Name Generator is a free, keyword-based tool that can suggest lots of business name ideas in the space of a few seconds.
You type in a word that you'd like the business name to include, then click 'Generate names'. The tool then comes up with a list of name recommendations, generated based on Shopify's directory of online shops.
These suggestions will vary in quality. When we entered the word 'landscaping' into the tool, the outputs ranged from the credible ('Contrast Landscaping', 'Inspire Landscaping') to the unintentionally humorous ('Penguin Landscaping').
Online business name generators may not be the most meaningful or scientific way to come up with a business name, but they're certainly a good tool for sparking ideas.

4. Ask you friends, family, colleagues or customers
While thinking up business names can be a headache for the business owner, it's usually much more enjoyable for other people.
Asking friends, family, colleagues and even customers to help think of a business name is a great way to get lots of ideas on the table.
This approach can also be an effective way to raise awareness of a new business. You could even incentivise involvement – for instance, by entering people who suggest a name into a raffle, where they can win one of your products. Not only does this encourage people to put forward ideas; it also educates people on what the business will offer.
5. Before you go ahead and choose a name…
Business names need to be unique. If another business already has a name registered with Companies House, you will not be able to use it.
Use the Company Name Availability Checker at the Companies House website to find out whether a name is taken.