Starting a business can be both challenging and exciting. In the early days finding the balance between saving costs and looking professional is a fine line, one you will have to draw for your business. Focussing on saving costs in the right places is essential and keeping track of your costs will make this much easier.
This blog goes through some very simple ways you can decide where to try and cut costs and how to tackle them. Helping you with keeping costs down when starting up.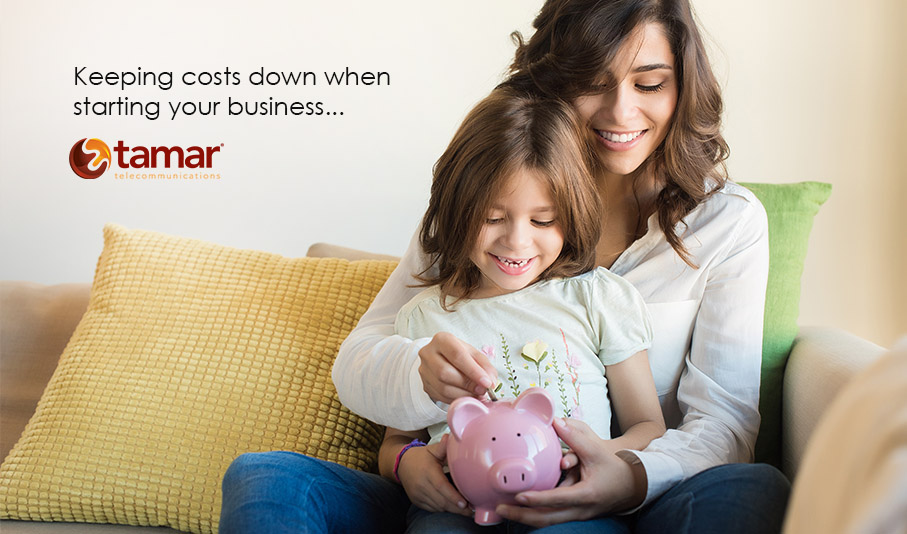 Refer to your business plan
This plan started your business, it is there in writing where you want your business to go and how you intend to do it. Going over your business plan is an uncomplicated way to evaluate how things are going and to see if you may have strayed over time, what costs didn't you account for and if you really need to be forking out for them.
Keep your business plan up to date, it's easy to forget about it and before long you have done so much and not all necessarily in the direction you planned. Once this is up to date you should write a financial plan. It takes a few hours and it is always good to have one before you tackle your costs.
Choosing what costs to cut
Time is of the essence here. Lowering costs is the goal but spending all your time doing this leaves less time on other areas of your business. Keep it simple and ask yourself:
What are the biggest costs to my business?
What costs take little time to manage?
Starting here with your costing is as good a place as any. Your biggest costs may take time and effort to bring down but there's no argument it would be great for business.
Taking on the 'quick fix' costs are just as important. Pennies make the pounds and while cutting the smaller costs provide minimal returns you are still making progress and saving cash. The little costs can be tackled when you have a few minutes in an afternoon and they help keep motivation up to tackle the big ones.
The big costs
These can be daunting at first but eyes on the prize, the money you save here is money that can go directly back into areas your business needs it.
Rent – We all look around for a nice office space with excellent value rent but don't be fooled into thinking that's all you can do. When approached, a lot of landlords will offer reduced rent or even rent-free periods for a year or longer. Landlords want your business, an empty office space isn't making them any money and, in many cases, costing them money.
These savings are HUGE when you are starting up, that additional cash can go a very long way. Don't be scared to ask and negotiate a better deal on your rent.
Staffing – Keeping labour costs down is a challenge for many businesses. Don't learn the hard way that a high turnover of staff is costly, time consuming and can be mentally draining. Paying high salaries isn't the only way to find great staff. Employee perks and benefits are just as important to a lot of people. Think about where you can offer flexible working hours, bonus schemes and ways to make staff feel valued.
Take your time when hiring, find the right person for the job, be patient and make an intelligent decision. If you find an employee's performance isn't where you would like it to be, take the time to bring them up to scratch. Loyal staff will stay with you and go the extra mile when you need it. Give regular feedback to your staff and build a team that is as passionate about the business as you are and they will want to watch it grow as much as you do.
The little costs
Take a few minutes to tackle these when you get chance. Usually a quick call or internet search can save you money.
Look at your bill provider once a year, scale them up on comparison sites before you decide to renew. You will almost always save a few hundred pounds by switching provider. Do the same for your insurance, electricity, water, internet and you have a nice sum saved to invest elsewhere in your business.
Trim little costs by bulk ordering things like stationary and office consumables. Over the space of a year these costs add up.
Office furnishings, do you need new? If the answer is not really then it is worth looking around. Big companies moving offices, revamping or just having a clear out are good to approach. It will cost them money to get rid of furniture, so they are usually happy for you to take what you can use in your own office.
Don't waste money throwing it at advertising that doesn't work for you. If you publish ads in newspapers, magazines, flyers, giveaways or even billboards use a tracking number to see how many calls your ad is generating. By using a virtual number on your ad, you can use our free call statistics feature that allows you to see how many calls came in from that number and at what time of day. Using these numbers mean you can see just how much business your ad generated and make an informed decision whether to continue running it or try something new. Throwing money at advertising that doesn't work for you is a very fast way to lose your marketing budgets.
Stay on track
Keep on top of updating your business plan and financial plan. These will help you make decisions on whether you need to be doing something as a business. Don't be scared to ask for discounts and negotiate on prices where possible. Suppliers will often have processes for discounts so if they won't offer anything, ask what you need to do to qualify and as your business grows you may find you fall into these categories.