Social media marketing can be challenging, especially if your business has multiple profiles across Facebook, Instagram, Twitter and all the rest.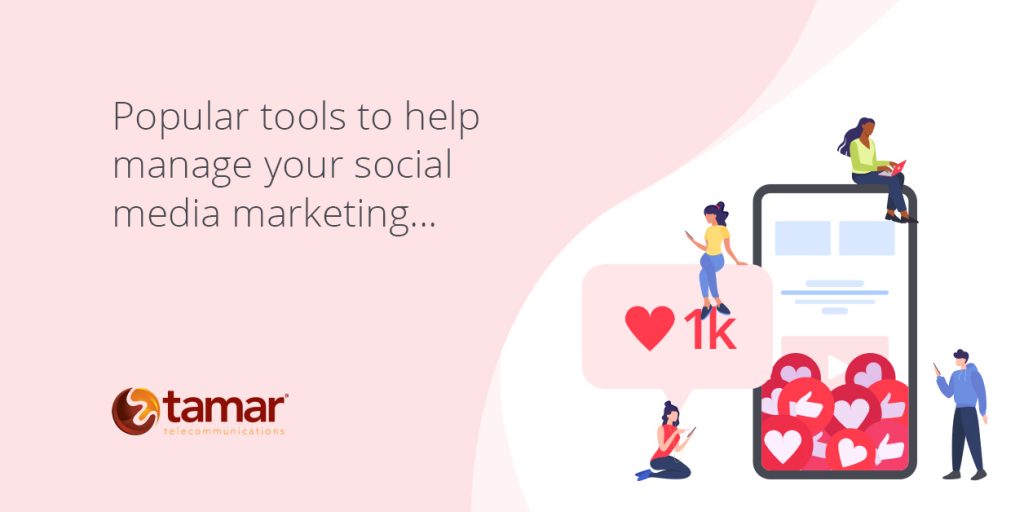 In this guide, we introduce a selection of social media marketing tools that will simplify key aspects of social media management, from including creating and scheduling posts, boosting engagement with content, and monitoring what customers are saying about your brand.
We've included links to the website for each software, so you can easily do further research into the tools that interest you most.
Hootsuite – manage all your social channels from one dashboard
Hootsuite is a leading social media management dashboard provider. It lets you manage multiple social accounts from one place. The platform is compatible with leading social media including Facebook, Instagram and Twitter, and can be used by multiple team members.
Most of the features needed to run a brand's social media can be found in the Hootsuite dashboard. This includes post creation, scheduling, collaborative content planning and customer relationship management.
Hootsuite's platform works similarly for small brands and large ones. The monthly subscription cost varies based on the number of social profiles and team members associated with your account, but the core product is always the same user-friendly dashboard.
If your business has multiple team members who deal with social media, we would strongly recommend using the collaborative tools offered by Hootsuite (or a similar platform). The collaborative content calendar is a highlight, allowing for different team members to fluidly add and edit content.
Hootsuite subscriptions start at £25/month. We advise taking a 30-day free trial before you commit.
QuuuPromote – boost genuine engagement with your content
QuuuPromote is a service that increases the reach of your content via social media sharing, in exchange for a monthly subscription fee.
In general, paid-for services that generate social media engagement are problematic. Many of them use the illegitimate tactic of boosting engagement using fake profiles (also known as "bots"), and this sometimes ends up doing more harm than good for the client profile.
This is not the case with Quuu Promote, a unique content promotion tool that gets real Facebook, Twitter and LinkedIn users to share the client's content to a relevant audience. It is used to attract social media engagement with content items such as blog posts from the client's website. You might find this particularly helpful if you are seeking to boost your site's SEO by driving more traffic to certain webpages.
With over 500 interest categories and over 40,000 real profiles sharing content daily, Quuu Promote is a versatile and powerful social amplification option for businesses. It's also accessible to most budgets, with monthly subscriptions starting at around £30.
Mention – monitor the conversations happening around your brand
One of the key challenges in social media marketing is reputation management. This involves keeping track of the conversations happening about the brand online; learning from the things people are saying; and making customer service interventions where appropriate.

The old-fashioned process of manually monitoring social media for mentions of a brand is a hugely time-consuming, inefficient chore. Social media listening software like Mention can do the same work far more efficiently and dependably, catching mentions of brand names or other keywords across whichever social platforms the user wants to monitor. In the case of Mention, this gives you a live view of what social media users are saying about your brand, with results from multiple social media pulled into a single dashboard.
If your social listening tool alerts you to a complaint which has been made about your brand, you can act on that by clicking through and offering to resolve the person's issue through your customer support process, which would typically be done through an email channel or customer support telephone number. Or, if someone has said something positive about the brand, you might want to click through and thank them.
Mention can also be used to track mentions of competitor brands on social media. This can help with assessing how much social media "share of voice" your brand is taking up relative to competitors. Which brand is being talked about the most? Listening in on social conversations about rival brands is also a great way to analyse public sentiment towards your competitors.
Later – manage your Instagram account to perfection
Later is the ultimate all-round Instagram marketing and account management tool.
For brands that wish to focus their marketing efforts on Instagram, or those that wish to treat the platform separately to their other channels, using a tool like Later is strongly advisable. It gives you a host of features which are not typically found in generic social media management platforms, including drag-and-drop Instagram feed planning, a visual content calendar, and Instagram Stories planning.
Later's products offer effective, user-friendly routes to Instagram profile optimisation for businesses. Perhaps the most powerful is Linkin.bio, which can be used to add links to an Instagram bio, or tag products in posts. These features can be used to help turn an Instagram profile into an integral part of a business's marketing and ecommerce activities.
Squoosh – upload great-looking photos that don't exceed social media file size limits
Squoosh is a free image compression application that runs in your web browser. Through tweaking technical parameters of your image files, it can help you keep your social media images looking crisp and beautiful while adhering to social media image file size limits.
One of the great things about Squoosh is that it provides a side-by-side comparison of the original image file and the compressed file that's being created through the tweaks you've selected in Squoosh. This makes it easy to ensure your images are still looking as you'd like them to, even after compression.
So there you have it, 5 tools to help you manage your social media marketing. Consistency is key when it comes to social media so be sure to schedule posts regularly, even if it's just one post a week. Having social platforms has become a normal process for most businesses now, after all it's a very affordable if not free way to connect with new and existing customers.