If you're reading this article, you're probably aware of the advantages of going into business as a tradesperson.
You'll be your own boss, you'll have the chance to do satisfying work on homes, businesses and public places, and you could earn a very good living while you're at it.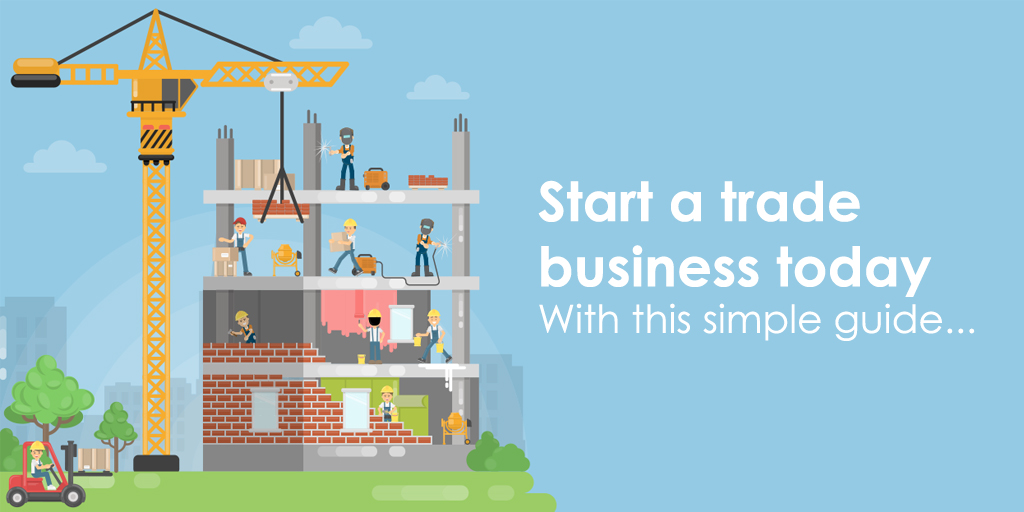 According to research done in 2016 by the Federation of Master Builders, the average tradesperson in the UK earns £42,000 a year. That's £10,000 more than the average university graduate. Some trades bring in a higher income than working as a pharmacist, architect or teacher, with the following specialisms offering the top salaries:
1. Site manager: £51,266
2. Plumber: £48,675
3. Supervisor: £48,407
4. Electrician: £47,265
5. Civil engineering operative: £44,253
Before you get started as a trade business, there's some groundwork you'll need to put in place, such as qualifications, equipment and insurance. Let's go through these important points, so you can get off to a good start in your chosen trade.
Skills and qualifications
One of the big plus points to working in a trade is the flexibility it gives you over how you gain your skills and qualifications. Many tradespeople get to learn on-the-job by working with experienced colleagues, sometimes as an apprentice. Alternatively, colleges and universities provide options to learn trades through undergraduate and postgraduate courses.
Depending on which trade you choose, you may need to acquire qualifications and/or industry certification before you start trading. For instance, plumbers in the UK require at least an NVQ Level 2, while electricians require at least an industry-recognised level 3 qualification. Be sure to check the qualification requirements for your trade before you launch a business.
In addition to training and qualifications, some trade businesses also aim to get certified by a trade association, such as the National Federation of Roofing Contractors Limited (NFRC) or the Chartered Institute of Building (CIOB). Certification or membership of a trade body can help trade businesses make a good impression on potential customers.
Equipment
Equipment is the biggest startup cost for trade businesses.
You'll need to acquire the necessary tools of your trade, such as trowels, buckets and paddles for plastering, or hammers, tape measures and utility knives for joinery. All the tools you buy should be of a high enough quality to do a professional job, and robust enough to be used daily over a good period of time.
Merchants like Screwfix and Machine Mart specialise in tools for contractors. We advise reading customers' product reviews on websites like these to find tools that are highly rated by people in your trade.
The other major equipment cost for trade businesses is transport. Almost all tradespeople use a van to travel with their tools and equipment to the client's location.
There are two options for trade businesses to acquire this essential piece of kit: buy or leasing. Buying a van has the benefit of giving you a business asset that you can use however you like, whereas leasing has the benefit of lower up-front cost.
Other equipment costs for trade businesses include building materials (you can charge your clients for whatever is needed for each job), safety equipment, and office supplies such as computers and printers.
Insurance
Trade businesses usually require several types of insurance cover. These might include:
• Public liability insurance – this covers injuries to other people and damage to property;
• Employers' liability insurance – this is essential if you going to have employees, sub-contractors or anyone else working for you;
• Tool insurance;
• Business buildings cover;
• Business equipment insurance; and
• Plant and machinery insurance.
Insurers specialising in trade businesses will often offer all-in-one policies. The tradesperson fills out a form indicating which types of cover they need, then the insurer responds with a quote.
Business setup and telephone
Most trade businesses use one of two types of business setup: sole trader or limited company. You should set yourself up as one of these options before you start trading.
Sole traders are self-employed individuals who must file a yearly tax return to HMRC. Setting up as a sole trader is a convenient option for tradespeople who do not require employees (you can still pay sub-contractors to work with you on a temporary/casual basis).
Limited companies must be registered with Companies House. As the director of a company, you'd be able to hire full-time or part-time staff. The downside to this business setup option is that registering a company is relatively complicated and time-consuming.
Another key step before you start trading is to set up a telephone number for customers to call you on. This can often present a problem for tradespeople: should you use a landline that you won't be able to answer while you're out working, or should you use a mobile number that will look less professional?
A good best-of-both-worlds option is to set up a virtual landline number, which will enable customers to dial a local number and get through to your mobile. There's a quick and easy way to set this up which you can check out here.
Website, online listings and reviews
Let's recap the key points we've covered so far:
• You've identified and gained all the skills and qualifications needed to do your trade;
• You've got the right equipment for the job, including tools, transport and safety gear;
• You're insured;
• You've set up as a sole trader or limited company;
• You've got a phone number for customers to call you on.
Once all these essentials are sorted, you'll be in a good position to start marketing your business. The simplest way to do this is to list your business in online directories such as Yell and TrustATrader.
Another popular method for promoting trade businesses online is via Facebook. Set up a business page, listing your services and contact details. You can give your follower count a kickstart by getting friends and family to like the page. Be sure to ask satisfied customers to leave a review on the page.
And finally, to take your online promotion to the next level, you could also set up a business website, advertising your services in greater detail. Having your own website will help people find out about your business via search engines like Google and Bing.