Getting the best phone setup for small businesses is essential. With 60% of people preferring to call a business after finding them online, phone calls are still the most simple way to engage with your customers on a personal level.
In this article we will guide you through the best phone set up for small businesses, with options for:
-Trade businesses
-Local shops
-Online businesses
-Freelancers
Tailoring your phone set up to suit your business is simple, fast, cost effective and a great way to start connecting with your customers.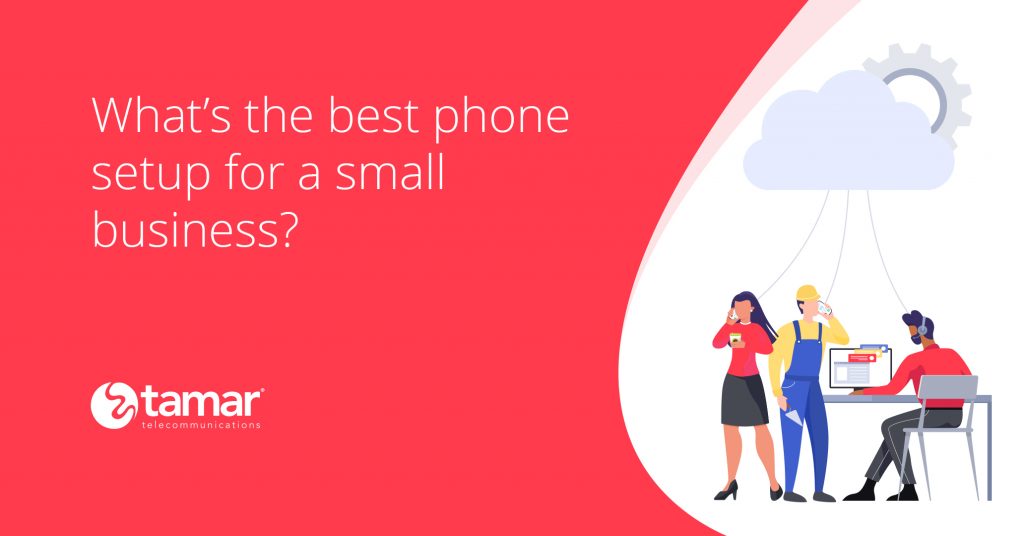 Trade Businesses –
Needs flexible, local phone set up
Trade businesses usually need a local phone number to help customers know you are in their area. However, not a lot of individual trades people have the budget for someone in an office answering calls for them. This is where Mobile Landlines come in.
A Mobile Landline means you can have a local phone number, giving your business a local presence, without compromising on flexibility. Have your local number divert straight to your mobile phone, enabling you to take calls while you're out of the office.
To tailor this set up there are a few things you can do to help your business stand out.
Add Call Whisper – Call Whisper plays you a quick message when you have an incoming call from your business number. Eg. "Incoming business call." This gives you the benefit of knowing the call is for your business, so you can answer accordingly.
Voicemail – If you're on a job or in a noisy environment, it's probably not the best time to take a business call. Use a branded voicemail message for your business so you keep up that professional image.
Cost for this set up:
Mobile Landline – £4.99pm+VAT
Call Whisper – £3pm+VAT
Voicemail – Free feature
Total: £7.99pm+VAT on a 1 month rolling contract, no cancellation fees.
Choose your Mobile Landline here.
Got a van?
Take it a step further and add an 0800 Number to your set up. 0800 numbers are memorable and ideal for advertising on vans where potential customers will need to take down the number quickly. Your 0800 number can be diverted to the same number as your mobile landline.
Adding a memorable 0800 number to your set up would be an extra £4.99pm+VAT. 0800 numbers are free to call from both landlines and mobile phones so can help increase your enquiries too.
Local Shops –
Needs local numbers, set working hours
For local shops a simple landline number could be all that's needed. However, there are ways to tailor this phone set up to work better for you and your customers.
Using a feature called Timed Diverts is perfect for shops. Let's say your shop opens between 9am-5pm, you can have your phone ring between those hours for you to take calls. When your shops closed your calls can be automatically sent straight to your own branded Voicemail. This keeps customers informed while letting you switch off after work with out being interrupted with business calls.
Alternatively, if you're happy to take calls at home when your shops closed, you can have the number divert to your mobile and/or your home landline outside of your shop opening hours.
Another nice way to tailor your number would be to use Holiday Settings. If your shop is closed bank holidays for example, Holiday Settings will automatically divert your calls to Voicemail on those days. You can have a dedicated bank holiday Voicemail message that could keep your customers informed.
"Thanks for calling [YOUR SHOP], we are closed for the bank holiday, our normal hours will resume tomorrow, thank you."
Cost for this set up:
Local Number – £4.99pm+VAT
Timed Diverts – Free feature
Holiday Settings – Free feature
Voicemail – Free feature
Total: £4.99pm+VAT on a 1 month rolling contract, no cancellation fees.
Choose your local number here.
Online Business –
Nationwide coverage
For online businesses your physical location is often not important to your customers. For this reason, you can show that your business has a nationwide presence with an 0333 national number. These numbers work the same as a landline but with no geographic location.
Online 24 hours a day? Chances are you're going to have multiple staff to manage that. Tailor your phone set up with Hunt Groups to send calls to different members of your team. For example, if 3 people are working you can have incoming calls go to all their numbers. At 5pm there is a shift change and 3 new staff start work, the calls can automatically be changed to call their phones past 5pm. Hunt Groups can be tailored to your business needs.
Another way to tailor your national number if you have multiple staff is to use a Virtual Switchboard. This is a top tip to get the best phone set up for small businesses.
"Press 1 for sales. Press 2 for accounts." Using a Virtual Switchboard helps show the scale of your nationwide business and saves you time and money by helping your customers find the right department from the start. You can have up to 10 options and don't worry if you have staff working multiple departments in the beginning. Multiple options can be diverted to the same phone, each will play a Call Whisper message letting you know which option the caller pressed so you can answer appropriately, helping you stay organised.
Cost for this set up:
0333 Number – £4.99pm+VAT
Hunt Groups – Free feature
Virtual Switchboard – £4.99pm+VAT
Total: £9.98pm+VAT on a 1 month rolling contract, no cancellation fees.
Alternatively, you could offer your customers a number that's free to call. 0800 numbers will also give your business a national presence.

Freelancers –
Needs flexible numbers, Call tracking
The best phone set up for freelancers can vary. For most cases a similar set up to the trades option above will work, using a landline for your mobile so your office can move around where you do. However, there are a few ways you can tailor numbers further, depending on your needs.
Use multiple numbers. If you're advertising your services in several places, use a different number for each place. By using the Call Statistics feature you can easily track which of your numbers is getting you the most work, helping you focus on the places that make you the most money.
This works particularly well if combined with Call Whisper. Let's say you are advertising different prices/services in different locations. Call Whisper can play a quick personalised message (that only you will hear) before you take the call, for example "Call from graphic design Facebook page". That way you know before you answer the call what services/prices the caller has seen, and you can answer appropriately.
You can have different branded Voicemail options for each of your numbers to keep up your professional brand image if you miss a call.
Cost for this set up:
Mobile Landline (Business/Ad 1) – £4.99pm+VAT
Mobile Landline (Business/Ad 2) – £4.99pm+VAT
Call Whisper x2 – £6pm+VAT
Voicemail x2 – Free feature
Total: £15.98pm+VAT on a 1 month rolling contract, no cancellation fees.
Choose your Mobile Landlines here.
Get set up
Now you have plenty of options for the best phone set up for small businesses. Choose your new phone number and be set up in just 1 working hour. No hidden costs and just 1 month rolling contracts.
Can't see your perfect phone set up? Give our customer service team a call free on 0800 772 0000 and they'll be happy to help you tailor your new number to your business needs.