As a new start-up or small business, you'll find it pays to look professional from day 1. At this early stage, your business probably doesn't have much press coverage, many online reviews or much of a public reputation. This means prospective customers and partners will be looking especially carefully at how your business presents itself, before they buy from you. To help, we've put together a start-up tick-list for 2020.
A business can create a professional first impression by perfecting certain aspects of marketing and operations. In this article, we'll work through a tick-list of actionable points to help you do this, from setting up a business address and telephone number, to nailing your business cards and email signature.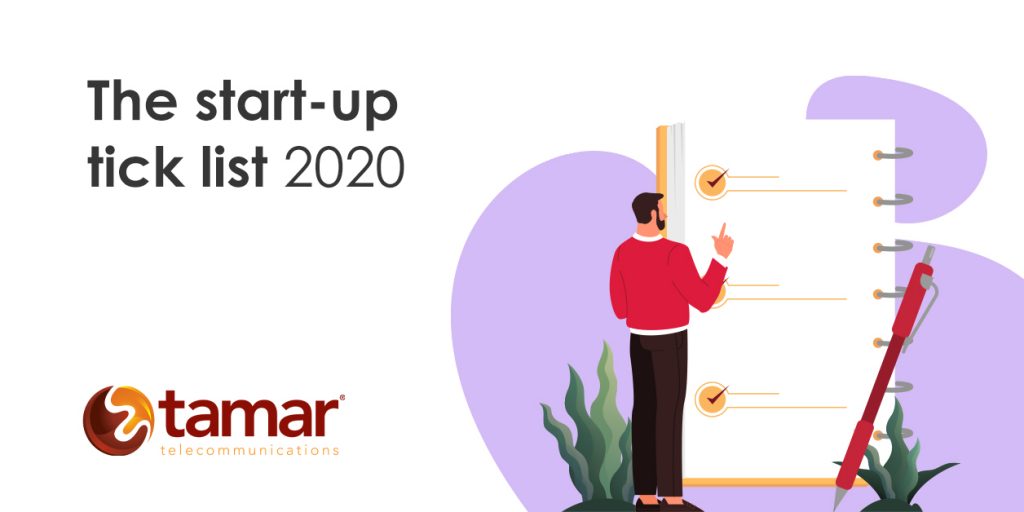 Invest in professional branding ✓
The best thing a business can do to create a professional first impression is to invest in good branding. This incorporates the logo, colours, design motifs and typography used in customer-facing aspect of the business, plus the tone-of-voice it will use in written communications.
Most of us know someone who is decent at graphic design, but we would generally advice avoiding this budget approach to branding. Most of the time, it's better to commission a professional design agency or freelance contractor, who will work closely with you to get every part of the brand just right.
Get some business cards printed ✓
As a business owner, it's always a good idea to carry some business cards. Having a card on hand for whenever someone requests one sends a good signal about your professional approach, and furthermore, Statisticbrain.com research has shown sales increase by an average of 2.5% for every 2,000 business cards you hand out. Just a few percentage points can make all the difference in your first years of trading.
If you are going to get professional branding done for your business, you will likely be able to request business card design and printing as part of the service. If not, we recommend using your own logo with a template-based business card service, such as Vistaprint or Banana Print. 39% of people won't do business with you if they think your business card looks cheap, so take care to get the design right.
To keep your business cards in good condition, carry them in a card wallet or business card holder.
Set up a business address ✓
New businesses sometimes use the founder's home address as their business address. While there's no doubt that this is a convenient option, there are some major downsides. Listing a residential address can make a business appear small-scale, and it compromises the founder's privacy by putting their home address in the public domain.
For businesses which do not have an office or customer-facing premises, the best solution might be to set up a virtual office with a provider such as Regus. This immediately and affordably gives your business a professional address, which can improve credibility and link the business to your chosen locations (even cities at the other end of the country). In some cases, you can arrange for the virtual office to handle your mail, too.
Some types of business can get away with using their home address better than others. A quick way to find out what other businesses like yours are doing is searching on Google Maps and checking whether the businesses found are in commercial or residential areas.
Set up a business telephone number ✓
Having a dedicated business phone number is crucial to creating a professional impression. Tamar Telecommunications can help you with this, whether you prefer an 0800 freephone number, a geographic number with your chosen area code, or a 0333 number that costs the same to call as a landline. These options all have their own tactical strengths, so feel free to contact our advisors for guidance. A dedicated business number will come across as far more professional than a mobile number.
Another important consideration relating to your business phone is how you are going to greet callers when you answer. Be sure to introduce yourself and the business; and try to answer before the third ring if possible – no customer likes to be kept waiting.
Provide full and accurate information online ✓
Customers expect to be able to find information on any given business from a variety of online sources, including Google My Business, social media like Facebook, directories like Yell, and the website of the business itself.
Providing complete, up-to-date information across all these online places is crucial to customer satisfaction, and also affects customers' ability to contact the business and access its offering.
Confirm your business address and contact details, your work hours and any other need-to-know information, then check to ensure these details are accurately listed wherever they appear online.
Nail your email signature ✓
A good email signature can help establish a business's professionalism on two levels.
First and foremost, it's crucial to include key information such as your name, job title, company name, website and business phone number. Business emails which don't have these details in the signature can create a bad impression. You should also add your company logo, to associate the conversation with your brand. Check out Mailbird's 10 examples of professional email signatures for inspiration on how to format these elements.
Secondly, your email signature can be a great place to showcase your credentials. For example, you could list some of your most impressive clients, or mention any awards or significant media coverage the business has received.
Keep learning ✓
In this article, we've covered 6 key steps that will help your business come across as a professional operation:
Invest in professional branding ✓
Get some business cards printed ✓
Set up a business address ✓
Set up a business telephone number ✓
Provide full and accurate information online ✓
Nail your email signature ✓
That's our start-up tick-list for 2020. Get all these things right, and you'll greatly increase your chance of making a good impression. But don't stop there – keep picking up tips from other businesses as you go. The professional world is always changing, and its important for businesses to keep up with the times.