Need some working from home ideas? Working from home is an increasingly popular way of life. According to an ONS survey published in 2018, 1.3 million Brits currently work from home. That figure looks set to rise, as more workers are drawn to the time-saving, stress-busting, travel-reducing benefits of working remotely. If working from home is something you'd like to explore, read on, as we outline ten exciting types of career you can pursue from your own kitchen table.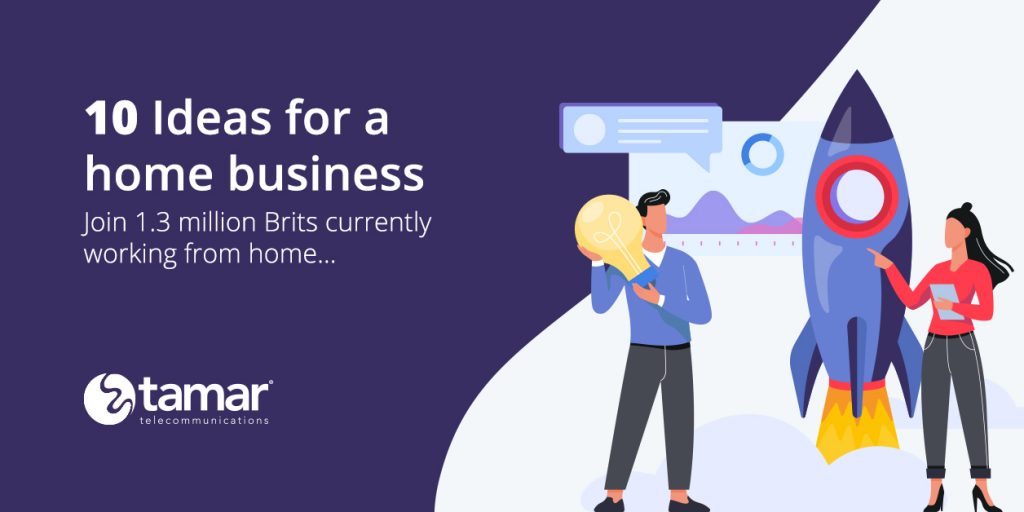 1. Launch a startup
Whether you're going to sell products or services, many types of startup can be run entirely from home. After all, Amazon, which is currently the world's thirteenth-largest company by revenue, was launched from founder Jeff Bezos' garage in 1994.
If you're the only person who'll be working full-time on your startup, working from home makes good financial and logistical sense. Just be sure to keep up your business networking, at local events – check EventBrite for opportunities – and on social media.
2. Artist or craftsperson
Illustrators, animators, portrait artists, jewellery-makers, fashion designers and craftspeople of all kinds often choose to work from home.
Setting up a proper studio space is essential to pursuing a creative career from home. Think carefully about the interior of the space, from the colour of the walls to the objects you will have around you. Perhaps most important of all is finding a space with good lighting, or figuring out a way to create it.
As a self-employed artist in 2020, you'd be very well-advised to set up a social media profile to promote your work. We recommend Instagram for this business type.
3. Virtual assistant
A virtual assistant is someone who does tasks such as data entry, uploading web content, image editing and admin for companies or people based elsewhere. The work is done online – hence virtual assistant.
Good places to find virtual assistant work include Virtalent and PeoplePerHour. You could also try reaching out to busy businesses and professionals on LinkedIn.
4. Content creator
A huge array of businesses require web content to promote their offering, whether that's in the form of online articles, social media posts, videos or podcasts.
If you have a talent for creating content, there are lots of different paths you can take to find work that you can do from home. We recommend monitoring LinkedIn for freelance content creator callouts. You should also set up an online portfolio with a service like clippings.me, to show off your work to prospective clients.
5. Online tutor
Services like MyTutor and Tutorhub provide a fast route for knowledgeable folk to connect with prospective students, who they'll be able to teach online via video call.
Another avenue for online tutors to explore is creating online courses. E-learning providers such as Udemy connect online course creators with an audience of millions of learners, with paid courses offering decent potential for instructors to earn a supplementary revenue. If you're able to cut out the middleman and get learners to sign up to a paid course on your own website or YouTube channel, the long-term earning potential is far better.

6. Home bakery
Here's a nice way to earn a crust from home. Independent bakeries are opening at an accelerated rate in the UK, inspired in part by the phenomenal popularity of the BBC's Great British Bake Off.
Some of these new independent bakeries are home-based – at least during the early stages of their growth. All you really need is a suitable kitchen, a big enough oven and a talent for baking delicious treats – dedicated premises can follow when you need to bake at a higher volume.
A good way to start drumming up business for a bakery is visiting local cafes to ask whether they are interested in stocking your products. Remember to take tasting samples!
7. Web designer
Do you know your divs from your FTPs? Skilled developers can make excellent money by designing and developing websites. This stems from near-ubiquitous demand among SMEs and organisations of other kinds – we all need a site, and there are relatively few people who can make them.
Developers can secure a continuous income by providing additional services to clients, such as help with hosting, search engine optimisation and Google Ads.
8. Kitchen designer
Kitchen design, or interior design more broadly, is one of the many jobs that don't really require an office – not in this age of powerful home computers.
What kitchen design does require is a great mix of technical precision and creativity. You'll need to be able to translate clients' requests, which might sometimes be quite vague, into functional, attractive designs.
A kitchen designer will typically meet with clients and visit their properties as part of their work, as well as meeting with suppliers and attending trade fairs. So, there'd be plenty to get you out of the house, even if you're working primarily from home.
9. eBay seller
Have you got a great eye for a business opportunity? eBay, along with other online marketplaces like Etsy, provides a quick and easy route to sales. Whether you plan on buying fresh stock, or picking up under-priced bargains from second-hand shops, there's a whole world of stuff you can sell on these sites. In 2018, 14-year-old schoolboy Tommy Howard made over £15k selling Nerf guns via an eBay business account – all while continuing his studies.
10. Health practitioner
If you love your career in healthcare but are longing for the comforts of home, setting up a practice at your place of residence could be the perfect compromise.
All sorts of health and wellness professionals have patients visit their homes, including physiotherapists, reflexologists, therapists, osteopaths and acupuncturists. Each specialism is subject to its own regulations, so do check with the relevant professional body before you set up shop.
Hopefully this list of working from home ideas has given you some useful inspiration. If you intend to set up as a work-from-home business, you should set up a dedicated phone number to connect with your customer professionally. Virtual phone numbers are an effective solution for startup businesses, here's how to set your own up.
Remember, there are over 1.3 million Brits already working from home. Starting your dream home business is achievable if you're prepared to put the work in and chase that dream!