Launching a new product is an exciting time for any business. However, it's important to resist the urge to launch too hastily, as this can lead to problems with customer support, marketing and the product itself.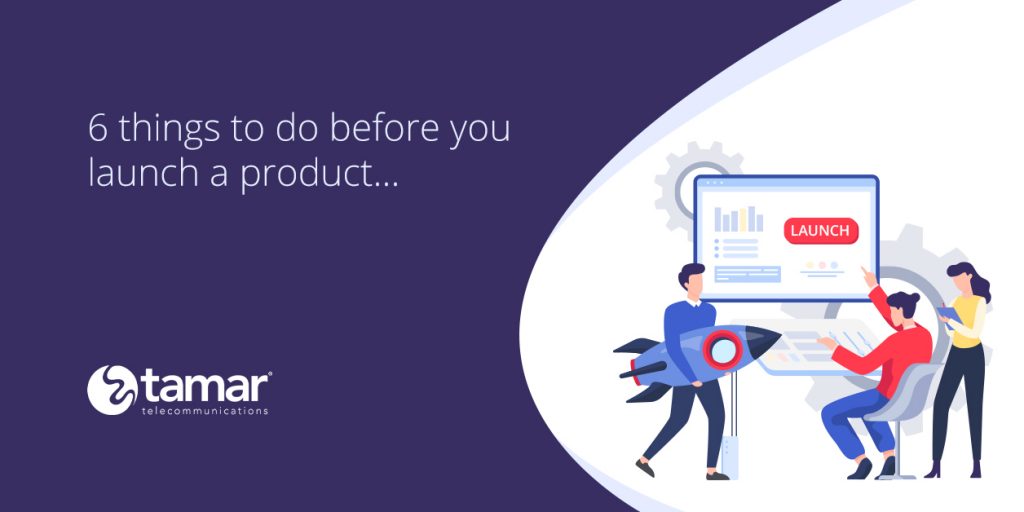 To ensure your new product meets or exceeds your expectations, work through these 6 things to do before you launch a product.
#1: Market research
Market research is the investigation of consumer wants and needs. Before your business launches a product, you should do your own market research into relevant audience groups.
There are two main categories of market research: primary and secondary. In primary market research, the business goes directly to the source to find the info they need, using methods such as surveys and interviews with customers. Secondary market research involves the use of market data which has been gathered by another party. Commonly used secondary market research methods including paying for access to industry reports and acquiring anonymised customer data from former competitors which have exited the market.
Whichever market research methods you plan on using, just be sure to take this step before you launch a product. Thorough market research will help give some certainty that people want to buy what you're planning to sell.
#2: Product testing
Forgive us if this sounds like a silly question, but does your product work?
This is a question worth asking, as it is all too common for brands to release products with defects, leading to dissatisfied customers and disappointing sales. Even the biggest brands are susceptible – look at the Samsung Galaxy Note 7 smartphone, which had to be recalled after the phones' batteries kept catching fire.
Even if your business operates on a more modest scale than Samsung, it's important to take away the lesson that you can never test a product too thoroughly before launch. What that testing looks like will depend on the product categories you are involved with. In most cases, testing the product's safety, integrity and customer experience will be focus areas.
#3: Get a nuanced understanding of the competition
The better you understand the competitive environment your product is going to be launched into, the more able you will be to make good strategic decisions.
One useful tool for understanding the nature of competition in a certain industry is Porter's 5 Forces – a framework which breaks competition down into:
Threat of new arrivals into the industry
Threat of the product being substituted
Supplier power
Buyer power
Competitive rivalry in the industry
Analysing the nature of these forces in your industry could yield deep insights into what your product needs to do in order to compete effectively.
Porter's 5 Forces is an advanced strategic tool, which requires an investment of time and effort to learn and use. You'll need to learn about the 5 Forces in detail before you can make the most of the framework.
If you're pressed for time, try using a simpler situational analysis framework like SWOT or PESTEL analysis instead.
#4: Plan for scalability
Most businesses would hope to sell their new product in large quantities. The more units you can shift, the greater your success is likely to be.
With this in mind, it's important to plan for how you could fulfil orders of your product at a higher-than-expected volume, just in case there's big demand.
The nature of planning for scalability of production varies greatly from industry-to-industry. If you sell physical goods, you may need to identify manufacturing and warehousing contacts who are able to facilitate production and storage of extra stock. On the other hand, if your product is digital, the main priority may be to identify suppliers who can increase your web hosting and customer support capacity.
Scalability is trickier for companies where artisanal skills or specialist knowledge are selling points. In such cases, having a ready supply of apprentices or trainee team members might be more appropriate than having outsourcing options on call.
#5: Factor in your customer retention tactics
Customer retention tactics such as loyalty schemes and personalised marketing can help a business to make the most of its customer relationships. These methods can turn one-off buyers into repeat or long-term customers, who keep adding value to the business through additional purchases and word-of-mouth recommendations.
Most types of product bring opportunities for "easy wins" in terms of customer retention, from newsletter signup options at the point of purchase, to promotional inserts for other products included in packaging, and loyalty cards given out with food and drink products at the till. Think about how you can build customer retention tactics into your new product, before you launch it.

#6: Be prepared to support your customers
Each product launch brings a variety of unique customer service requirements. It's crucial to prepare your business's customer support function for these new demands.
If this is your first product launch, you may need to set up customer support channels from scratch. Creating a customer support helpline and a support@ email address will cover most customers' requirements, although you may also need to handle some customer support cases via your social media channels.
The team members who will be responsible for customer support should be thoroughly trained in the relevant new product before it is launched. In some cases, this means the team member should be provided with a sample of the product, so they can get a proper sense of how customers will experience it. Any sticking points with the product which have been identified during product testing should be fed into customer service training, in order to preempt likely customer service queries.
Good luck!
Launching a new product can bring a mix of positive and negative feedback for a business. We hope the good outweighs the bad in your venture – but either way, remember to learn from experience. The lessons that emerge from this product launch could prove invaluable to the next one.