Need a better home office setup? Working from home is fast becoming the norm for many. During the first UK coronavirus lockdown, in April 2020, some 46.6% of people in employment worked from home at least some of the time. And for the country's growing cohort of self-employed people and employees on flexible contracts, home-working was already a key part of working life, prized for its convenience and family-friendliness.
Whether by necessity or by choice, home-working looks like it's here to stay. In this article, we'll take you through some key steps you can take to make this thoroughly modern way of working work better for you.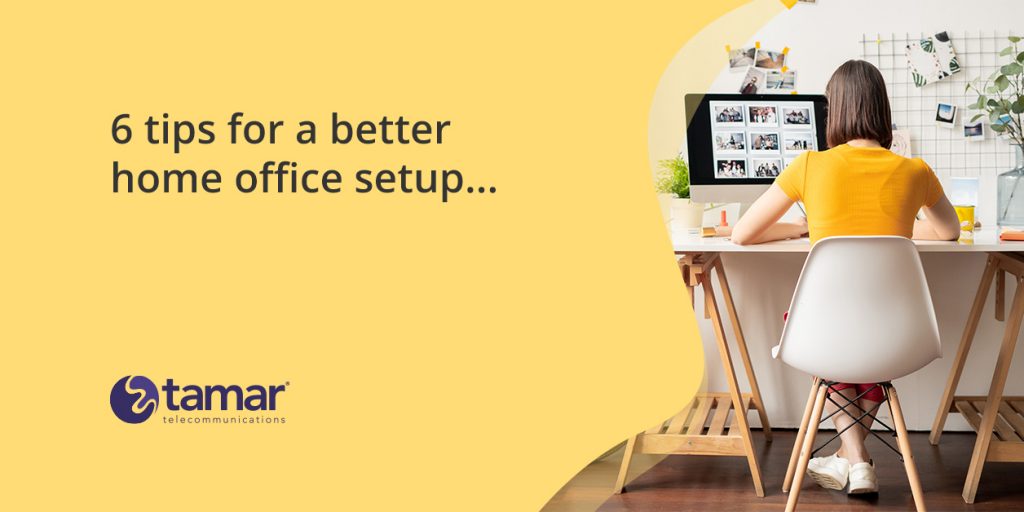 1. Invest in an ergonomic office chair
Having the right office chair is crucial to a home office worker's musculoskeletal health. Using just any old chair, or a chair that doesn't suit your body, can lead to aches and pains, or even to longer-term health conditions.
What you really need is an ergonomic office chair; one that you can adjust using levers or other mechanisms. For example, you might be able to change the height of the chair, or the angle of its backrest.
Everyone's body needs to be supported slightly differently in order to ensure their health and comfort. An ergonomic chair could give you the room for adjustment that's needed to provide that tailored support.
2. Remove distractions from your workspace
When you're working from home, it's all too tempting to have an extra monitor on your desk streaming your favourite TV shows, or even a games console plugged in and ready to play.
If you surround yourself with distractions like these while you work, you run the risk of both reducing your workout and diluting your enjoyment of your hobbies.
So, to improve your home office setup, we recommend moving things you associate with entertainment to another part of the room, or even better, another part of the house.
This is not to say you can't break up your day with some entertainment. In fact, we strongly recommend "breaking out" from your workspace and doing something stimulating over lunch (or any other breaks you take). Go for a walk, play a game, do some exercise, or do whatever else you need to stay mentally and physically fresh.
3. Get the home office tech you always dreamed of
For many people, the world events of 2020 have made it necessary to work from home more often. In some cases, people who used to work at an office full-time are now home-working every day of the week.
There's no doubt that this has been a huge adjustment for many. We recommend making that change as pleasant as possible, by treating yourself to all the home office tech you've wanted over the years but decided not to buy. Get that beautiful monitor with the eye-care setting; get that printer with the refillable ink reservoirs!
Of course, this comes with the caveat that good office equipment is often expensive. If you have an employer, do bear in mind that the company may be able to subsidise the purchase. Or, if you're registered as self-employed or as a limited company, the equipment you buy for work should be tax-deductible.
Even relatively minor purchases like a new mouse or keyboard could help you feel great about your home office setup – so go ahead and treat yourself if you can.
4. Get yourself a business telephone number
One of the big challenges that come with working from home is maintaining a sense of separation between work and your home life. When both are happening in the same place, it becomes hard to create healthy boundaries that will help you thrive both personally and professionally.
If you're a business owner working from home, an effective way to create that separation between work and private life would be to get your own business telephone number. This will ensure work-related calls can reach you via a dedicated channel, rather than your personal number.

5. Explore the joys of online radio and podcasts
This one's going to split opinion.
For some office workers, listening to audio while working is a great way to stay focused and stimulated. For others, it's just a distraction.
If you fall into the former, audio-loving camp, we strongly recommend checking out some new internet radio stations or podcasts to listen to while you work.
Both Google Podcasts and now Spotify let you stream a wide variety of podcasts via your laptop or other connected device, ranging from humour and true crime series to business and professional development shows. There truly is a podcast for everyone.
Meanwhile, for new online radio options, try TuneIn.
6. Think carefully about where you place your desk
The location of your desk could quite greatly affect your experience of working from home. It will determine what you have around you to look at all day, how close you are to the things you need around the home, and possibly how close you are to other people. You need to choose a location that gives the best experience for you.
Not everyone wants exactly the same things from their desk placement – but one thing most people do have in common, is the need for daylight. It's uplifting to have natural light in the room as you work (although it can be annoying when it causes screen glare), so we recommend placing your desk relatively close to a window. Those of you who are working in a windowless space should consider purchasing a sun lamp. These special lamps imitate the action of sunlight, which can help your body regulate its melatonin levels and stay energised.
We hope that this article has given you some inspiration to create a better home office setup. Even just one of the six points we've discussed could make a huge difference to your experience each working day. If you can get all six right, you'll be in a great position to thrive as a home-worker.