Card payments rocketed to the top of the agenda for many small businesses in 2020. Until recently, accepting card was a great way to future-proof a small business. Nowadays, with card payments 75% higher than the pre-coronavirus norm, it is fast becoming a basic business requirement.
The pandemic may have caused an increase in card use, but there were already lots of positive reasons to offer card payments anyway. Not only is this payment method cleaner than cash; it also provides a convenient way for customers to pay online or over the phone. This guide will walk you through how to set up card payments for your own small business.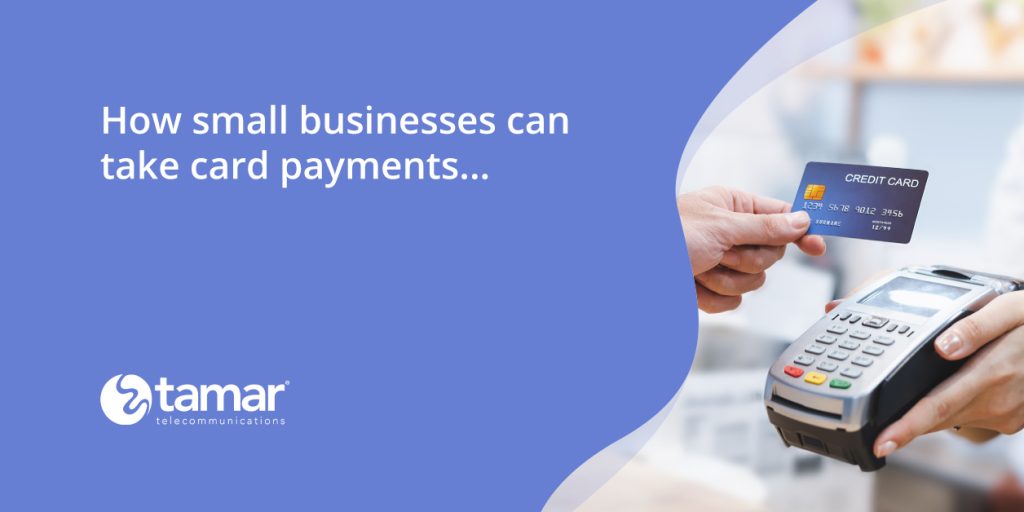 Setting up card payments with an acquirer
The traditional way to accept card payments is to work with an 'acquirer', or 'acquiring bank'. An acquirer is a financial institution which processes credit and debit card transactions on behalf of card issuers like Visa, Mastercard and American Express. When a customer makes a card payment to your business, the acquirer acts as the bridge between the customer's card and your business bank account.
Notable acquirers serving businesses in the UK include:
American Express
Barclaycard Business
EVO Payments
First Data
Worldpay
Most acquirers facilitate card payments through chip-and-pin terminals. These are the countertop machines with keypads and screens which you are almost certainly familiar with using as a customer. In this setup, the acquirer usually owns the card terminal and rents it out to the business for a fee. You will need to sign a merchant service agreement (MSA) with the acquirer to contractualise this relationship.
When choosing an acquirer, it's important to weigh up the payment methods supported by each one. In addition to debit card and credit card transactions, some acquirers can accept payment via contactless, or even smartphone. Enabling contactless payments is definitely advisable in this day-and-age, while smartphone payments are also highly relevant to some businesses.
Using your own card reader
Some acquirers allow merchants to use their own card terminals. This opens up the possibility of replacing the recurring cost of terminal rental with the one-time cost of buying a card terminal of your own, from a supplier such as iZettle or SumUp. (Please note that even if you choose this setup, you'll still have recurring costs, in the form of transaction fees paid to your supplier.)
Using a card reader of your own is a great option for small businesses which operate seasonally, or only occasionally, as it cuts out the monthly card reader rental costs associated with renting a chip-and-pin reader on traditional terms.
Taking card payments online and by telephone
For many small businesses, a key reason for setting up card payments is to add the capability to take card payments online or by phone.

In order to take card payments online via your website, you'll need to set up an online payment system. There are two key steps to the process:
Open a merchant account
Set up a payment gateway
A merchant account is a web-based bank account that holds the customer's money while their bank approves the transaction. This is neither your own bank account nor the customer's: it's a trusted third party that looks after the money to facilitate the transaction.
Merchant accounts are offered by a variety of financial institutions, ranging from high-street banks to fintech companies.
Popular merchant account providers in the UK include:
All merchant accounts make their money by charging fees on account usage and/or support, so we suggest you compare a few different options to find one that provides good value based on your projected usage.
The other key step in setting up online payments is implementing a payment gateway. This is an application that connects your online point-of-sale to a payment processing network. In the simplest terms, it takes the card details your customer enters and submits them for settlement of the transaction.
Most merchant account providers offer a payment gateway as an add-on, and we would advise taking them up on that offer if you want to keep things simple (and probably cheaper). With that said, payment gateways do differ in their fine detail. Some have more robust security measures than others, and some have particularly fast transaction processing. Businesses that care more about quality than cost-efficiency could benefit from shopping around and matching their ideal merchant account with their ideal payment gateway.
Leading payment gateway providers include:
PayPal
WorldPay
Sage Pay
Authorize.net
With your merchant account and payment gateway in-place, you'll have everything you need to take online payments.
Of course, it's not all about online. Card is also a suitable method for taking payments via your business telephone number. These card-not-present (CNP) transactions require the business representative to take the customer's details over the phone, while entering them into a virtual terminal. The process can be facilitated through payment processors such as SagePay, Worldpay and SumUp. Customers often choose to pay by phone because they trust this method more than paying online. As such, it's best to use a dedicated business telephone number, such as a local network number. Contact Tamar Telecommunications to set one up today.