Here's how to set up a business email in three simple steps, from setting up a web domain, to linking that domain to an email host and configuring your business mailboxes.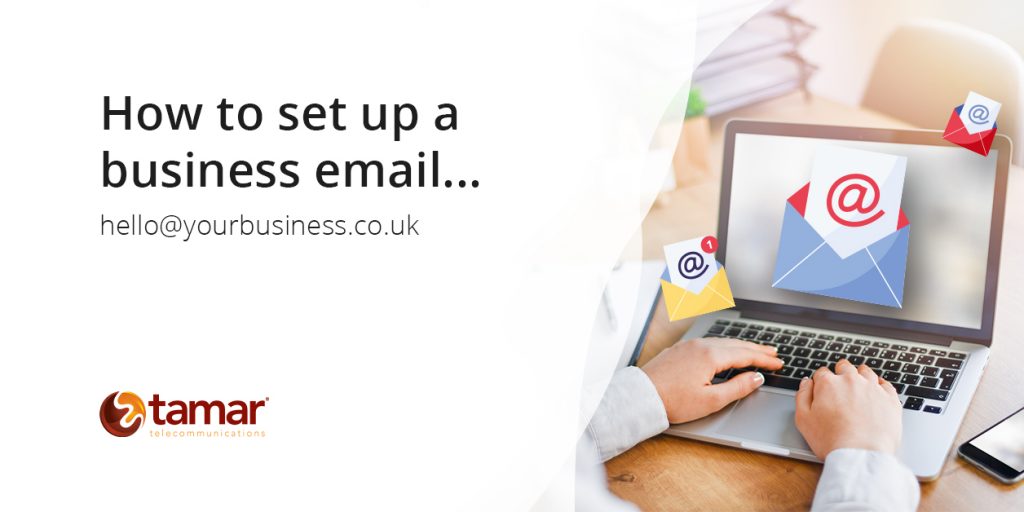 Step #1: Set up a domain
Learning how to set up a business email is simple. If you want a business email address that includes your business name after the @ symbol, you'll need to set up a web domain.
There are two main sections to an email address: a username and a domain name.
The username is the section before the '@'. It tells you which person or department owns that particular email account.
The domain name is the section after the '@'. It tells you which domain the email account is hosted on. This will usually show the business name, followed by a top-level domain (TLD) such as .co.uk or .com.
Example: sales@tamartelecommunications.com

[username@domain name]
In order to host an email on a business domain, you will need to own the relevant domain name. If your business has an official website, you will be able to use the domain name the site is hosted on. If not, you'll need to buy the domain you would like to use, which can be done via a domain registrar service.
Does my business really need its own web domain?
Including the business name in the domain name section of email addresses is important to the professional presentation of a business. In much the same way as a dedicated business telephone number, it gives the business credibility in the eyes of customers and other contacts. Research from Verisign has shown 78% of consumers in the UK trust emails from businesses more if they are sent from a registered business email address.
If you are a sole trader or a very small business, you may be happy to settle for using a free email address hosted by a third-party, such as a @gmail.com or @outlook.com email address.
Step #2: Choose an email client and link it to your domain
The next step in setting up a business email is deciding which email client to use. An email client is an application that lives on the user's computer, and uses their servers to provide email functionality. Popular examples include Gmail, Outlook and Thunderbird. Most businesses prefer network-based email clients to web-based email applications, like those you might use for personal email, as email clients tend to be less susceptible to data breach.
Email clients differ in key attributes such as user interface (UI), features and pricing. TechRadar's Guide to the best email clients of 2020 outlines key distinctions between some of the best free and paid-for options.
Once your chosen email client is downloaded and installed, you will be able to link it to your web domain. This can be done via your domain registrar, which should provide an easy way to carry this out within your user account/dashboard.
Step #3: Configure your mailboxes
Deciding which mailboxes to set up
Most businesses have multiple email accounts, representing both individuals within the business, and functions of the business such as sales, community management and finance.
Make a list of each department/function of the business for which multiple team members have responsibility, then consider creating a shared mailbox for each. You might end up with something like this:
● info@
● hello@
● sales@
● marketing@
● finances@
● support@
● intern@
● [any other department or team within the business]
With shared inboxes, you can set permissions for each person who has access. Common user permission settings for shared inboxes include full access; 'send as' access, where the user can impersonate the inbox when sending mail; and 'send on behalf', where the user's emails show the sender as, for example, 'Karen on behalf of Finances'.
You'll also need to set up a personal mailbox for each team member who needs one. The best format to use will depend on the size and brand of the business. Businesses with an informal brand, such as a small ad agency or web developer, would typically use only the team member's first name, i.e. firstname@domainname.com.
However, this approach becomes impractical when a team reaches a certain size, in which case a firstname.lastname@ or firstinitial.lastname@ format should be used instead.
Inherently formal businesses, such as law firms, newspapers or academic institutions, very often use a firstname.lastname format, even if their team is small.

Creating an email signature template
A good email signature can help establish the brand identity and professional credibility of a business.
While there are many ways to format an email signature, most are populated with the following details:
● Name of department or team member (if team member, include the surname)
● Job title
● Phone number (if possible, use a dedicated business phone number)
● Website address
● Office/store address
● Social media buttons
● Headshot (optional)
● Company logo
It's best to present this information in the most succinct way possible. For example, you could use the simplest representation of your website address (without the https:// and the www.).
In certain industries, businesses include additional details in their email signatures. For example, freelance journalists typically include the names of publications they have contributed to in their email signature, while video production agencies often include a link to their showreel on YouTube or Vimeo.
To find out the email signature conventions in your own industry, try emailing some of your competitors. You'll be able to see what other businesses like yours are doing in the replies.
Writing a corporate email usage policy
Businesses with large teams, or those which deal with sensitive information, should consider creating a corporate email usage policy for team members to follow.
Details to include in a corporate email usage policy include:
● What constitutes an inappropriate use of company email;
● What constitutes an appropriate use of company email;
● Guidance on acceptable personal use;
● Security requirements;
● Email signature guidelines;
● Outline of disciplinary measures applicable if the policy is breached.
Workable has an excellent free corporate email usage policy template which you can use to help formulate your policy.

So now you have our simple guide on how to set up a business email. Check out these articles below for more business tips!