Ever wondered how small businesses or one-man bands manage to fork out so much for professional phone systems? How they are managing their calls in and out of work hours without becoming snowed under? How do you even get one of those fancy "Press 1 for sales" things?
This blog aims to answer all those questions and more as we go through virtual number setups and how to get the most out of them to take your business calls to the next level.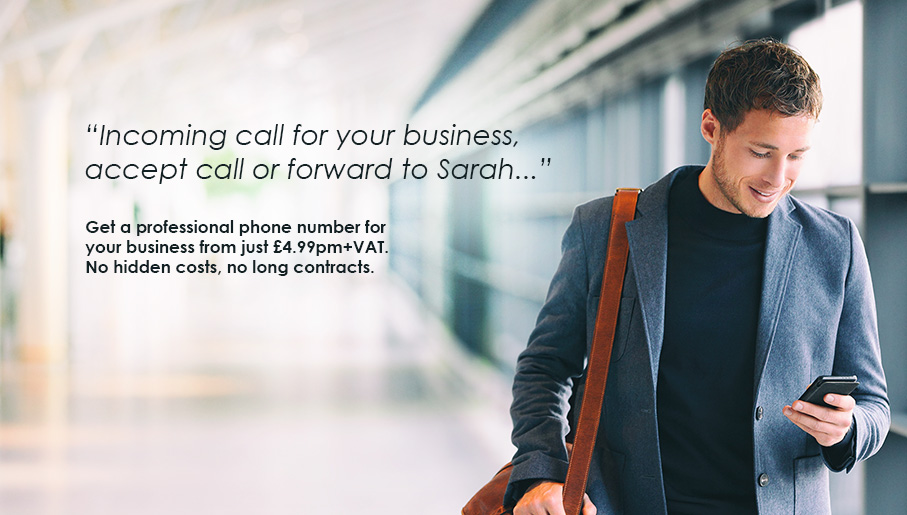 The setup
Big phone systems are not only expensive, but complicated to set up too. Making them nearly impossible for small businesses and startups. So how are some small businesses doing it?
They are using virtual phone numbers. Getting a virtual phone number for your business is not only easy but very affordable. With tariffs starting from just £4.99pm+VAT, they are priced so even the smallest of startups can afford them.
Put simply, virtual phone numbers are just regular numbers that divert to your existing mobiles or landlines. For example, let's say you are running your business using a mobile phone. You want to advertise a landline number to look professional with an office, but you don't have the budget nor the staffing to keep someone by the phone all day. You can simply order a virtual landline and have it diverted to your existing mobile, so any calls your landline receives will come straight to your mobile for you to answer. Your virtual number can be diverted to as many handsets as you need, both mobiles and existing landlines, so as your business grows you can divert calls to more members of your team.
Virtual numbers aren't just available as landlines either, you could have an 0800 freephone number to generate more enquiries or an 0333 number to show a nationwide presence.
Getting the most from a virtual number
This is where virtual numbers can take your business calls to the next level. Our virtual numbers come with over 10 free features to help your business stand out. We'll highlight a few below but for a full list visit our free services page.
Let's start with the Welcome Announcement feature. An effortless way to build immediate trust with your customers and set off with a professional image. Welcome announcements let your caller know they have the right place from the get go and, as the name suggests, welcome them to your business. For example, you could have your announcement say, "Welcome to My Business, we are connecting you to our next available team member". It's easy to make your own Welcome Announcements with just one call.
"How they are managing their calls in and out of work hours without becoming snowed under?"
Set your working hours with Timed Call Diverts. This feature is designed so our small businesses and one-man bands aren't having to continuously take business calls at every hour of the day. Set your working hours you would like to receive calls, outside of those hours calls can then divert to another member of staff or your out of hours Voicemail (also included free).
For example, you want to accept calls Monday to Friday between 9am to 5pm. During those hours you can have all calls come directly to you. Outside of those hours calls could go straight to Voicemail asking callers to leave a message and you will get back to them during work hours. Let's say you have another member of staff that works weekends though, so on weekends you can have your calls divert to their phone.
Our free features are designed to be incredibly flexible, so businesses can tailor their setup to suit their needs.
The last free feature we'll go into here is the Call Statistics feature. This feature can be used in lots of ways and is extremely useful for businesses. See how many calls you are receiving from your numbers, what your busiest times of day are, see if all your calls are being answered at those times or is it time to start hiring in a new member of staff? Call Statistics help you manage your business decisions based on stats.
For example, you are running two ads, one in a local newspaper and one on a billboard. There has been a definite increase in business, but which ad worked best for you? By using a different number on each advert, you can use your Call Statistics feature to see where your calls came from and what advertising really worked for you. So, if all your calls came from the newspaper advert number, then the billboard advert wasn't cost effective and you can save yourself the cost of trying again based on the stats. We have a whole blog on helping you to track your offline advertising.
Other free features include Hunt Groups, Holiday Settings, Blacklists, Anonymous Call Rejection and more. If you're unsure of anything or have questions then our customer service team are here to help, they're not a sales team, they're there to help, so ask questions without anyone trying to do a hard sell!
Managing your number
As we said before, every business is different and you need to be able to tailor your features to suit you at any time. You can control your number and all the features using our Online Control Panel and our Control Panel App. Simply log in whenever you like and change settings, features, diverts as and when you please.
"How do you even get one of those fancy 'Press 1 for sales' things?"
Go the extra mile with a Virtual Switchboard. Virtual Switchboards give your callers a much more direct route to the department they are calling for. When customers call they will hear a menu asking them to "press 1 for sales, 2 for accounts" and so on. This shows off that you are a large and established business and is a simple way to gain customer trust.
When a customer presses an option, before you take the call you will hear a short Call Whisper, letting you know what option they pressed. This allows you to answer the call appropriately for that department. For example, if the caller pressed 3 for returns, your Call Whisper could simply say "returns call". The caller wouldn't hear this message, only you, who can then answer, "Thanks for calling My Business, you're through to the returns department, how can I help?".
Your Virtual Switchboard can be set up with up to 10 menu options, each diverting to different numbers. You can of course divert options to the same number for overlapping departments, with the Call Whisper meaning the call can still be answered appropriately.
Virtual Switchboards are an add on product. Now with free setup and just £4.99pm+VAT they are very cost effective.
Use these industry secrets to take your business calls to the next level with virtual numbers. Use them to give your business a professional and memorable phone number, set up virtual offices or track your offline advertising. The cost-effective solution for businesses of all sizes.
If you have questions, would like more information or want to setup your virtual number today you can call our customer service team on 0800 772 0000 or visit our website www.tamartelecommunications.co.uk. Rated 5 stars on TrustPilot we pride ourselves on providing valuable telecoms solutions for businesses, backed by first-class customer service.