Also known as: Virtual Numbers, Mobile Landlines, Geographic Numbers, Pocket Landlines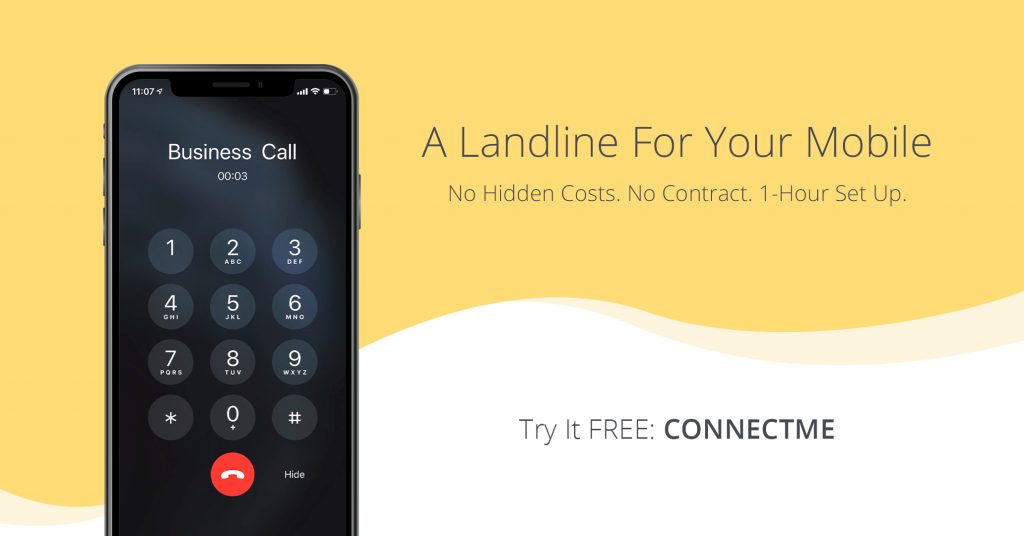 Getting a landline for your mobile is simple. You can choose a landline for any UK town or city with the number picker below. Let us know which number you would like your new landline diverted to (your mobile number for example) and we'll get you connected in just 1 working hour. A simple, fast and effective way to help your business keep up that professional image, even when you're out of the office.
Use code: CONNECTME at the checkout to try a mobile landline for 1 month, FREE! Full terms and conditions at the bottom of the page.
Tailor Your Setup
Your new landline number has the benefit of over 10 free features too. You can use these features to tailor your phone setup and stand out from the crowd. Here are a few favourites:
Welcome Announcement – When a customer calls you they can hear a quick message welcoming them to your business. This lets them know they are in the right place before you've even answered the call. For example, "Welcome to [YOUR BUSINESS], we are connecting you to our next available agent."
Voicemail – For small businesses it's inevitable that there will be the occasional missed call. With a Voicemail you can brand for your business, a missed call doesn't have to be a missed opportunity. Invite callers to leave a message and you can get back to them.
Holiday Settings – Closed for bank holidays or taking a much-needed break? Keep your customers informed with Holiday Settings. Your calls will be diverted to Voicemail while you're away so you can let customers know when your office will be back open and invite them to leave a message for your return.
Other features include: Blacklist, Call Statistics, Timed Diverts, Hunt Groups (If you have multiple staff or phones) & more!
All these features are completely free for you to use to create the perfect solution to connect with your customers.
Tariffs & Pricing
No hidden costs. 1-month rolling contracts. First-class customer service. We're rated 5 stars on TrustPilot and take pride in helping businesses connect with their customers.
Flexible tariffs with no minimum term...
2500 Inclusive diversion minutes
1 Month rolling contract
Free Connection
1p per min to landlines after inclusive
1p per min to mobiles after inclusive
Divert to Landlines & Mobiles
Over 10 Free Features
Unlimited* Inclusive diversion minutes
1 Month rolling contract
Free Connection
0p per min to landlines after inclusive
0p per min to mobiles after inclusive
Divert to Landlines & Mobiles
Over 10 Free Features
The above mobile diversion rates apply to mobile numbers originally issued by:
O2, Vodafone, Orange, T-Mobile, EE, Virgin mobile, Lycamobile, Sky Mobile and Three.
*Our geographic unlimited plan allows you to receive up to 5 calls at the same time.
Pick your perfect number...
Start your order by picking your telephone number(s) from the list below:






1-month free terms:
• 1. Free rental for the first month on one number per customer only.
• 2. Free rental promotion available on any of our advertised tariffs.
• 3. Includes Call Whisper and Virtual Switchboard rental.
• 4. Excludes any connection/setup fees where applicable.
• 5. This offer is open to new and existing customers.
• 6. This offer cannot be used in conjunction with any other offer.
• 7. Offer expires 30/10/2020.