We have a lot of customers who use their personal phones for business as well as personal use. Something we get asked a lot is how to differentiate between business and personal calls. We understand for startups and small businesses keeping up a professional image is essential for building those customer relationships, which is why we offer our Call Whisper feature for businesses in this situation.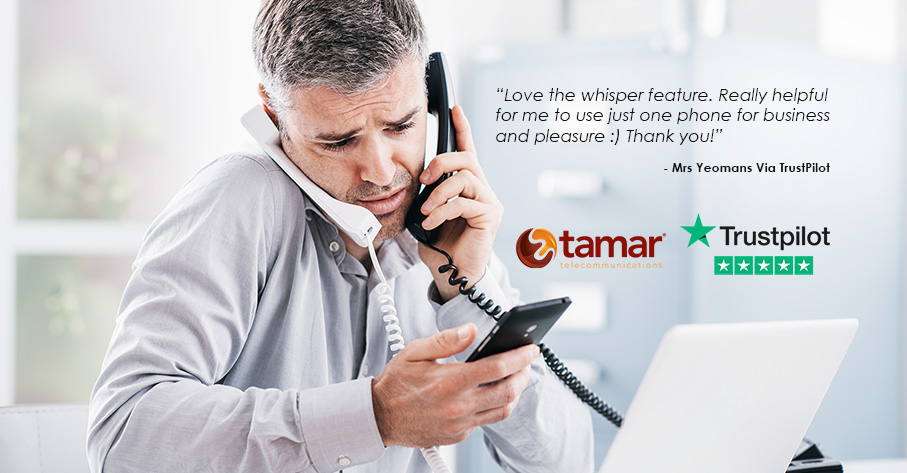 Call Whisper is an add on feature to your virtual number, playing a short message letting you know the call is for your business. The message is personalised to you, for example, "Incoming call for Jakes Plumbing". Only you will hear the message, the caller will just hear the standard ring tone. This helps you differentiate between business and personal calls, giving you the opportunity to answer the phone professionally and set the right impression for your business from the off.
You can have Call Whisper set up so you have the option to either accept the call or route it to your business voicemail. This is ideal if you aren't in a suitable environment to take a business call and sound professional. For example, if you work around loud machinery or are simply just too busy to take the call right there, you can route to voicemail and return the call at your earliest convenience. Alternatively, you could route the call to another member of staff on duty.
There you have a simple way to differentiate between business and personal calls with Call Whisper without having multiple phones or expensive setups. Just £3pm+VAT, no hidden costs or long contracts.
Welcome customers to your business with our free Welcome Announcement feature
Let your customer know they have the correct number right from the beginning, build trust and establish yourself as a professional business. Our free Welcome announcement feature lets you make a greeting to play to your callers when they dial your number. For example, "Welcome to My Secret Agency, please hold while we connect you to the next available agent".
Our Welcome Announcement feature is FREE for all customers. Get yours setup on the Control Panel today or call customer services on 0800 772 0000 and they will help you. You can make your own greeting free of charge or choose one of our carefully selected voiceover artists for a small fee.
Not a customer yet? Sign up for a Virtual Number with Tamar Telecommunications and get over 10 free features with every number. Plus, with our free Control Panel App you can manage your calls from anywhere. Still not convinced? Check us out on TrustPilot to see what our existing customers are saying about us.