According to research from Henley Business School, about two-fifths of working Brits have a side hustle. This could mean just about any work done in addition to a person's main job – from setting up an online shop to picking up shifts as a courier or taxi driver.
Join us as we talk through 20 of the best side hustle ideas for 2020. There's something for everyone, whether you're looking for a business idea that can grow into your main source of income, or you simply want to make some extra cash on an occasional basis.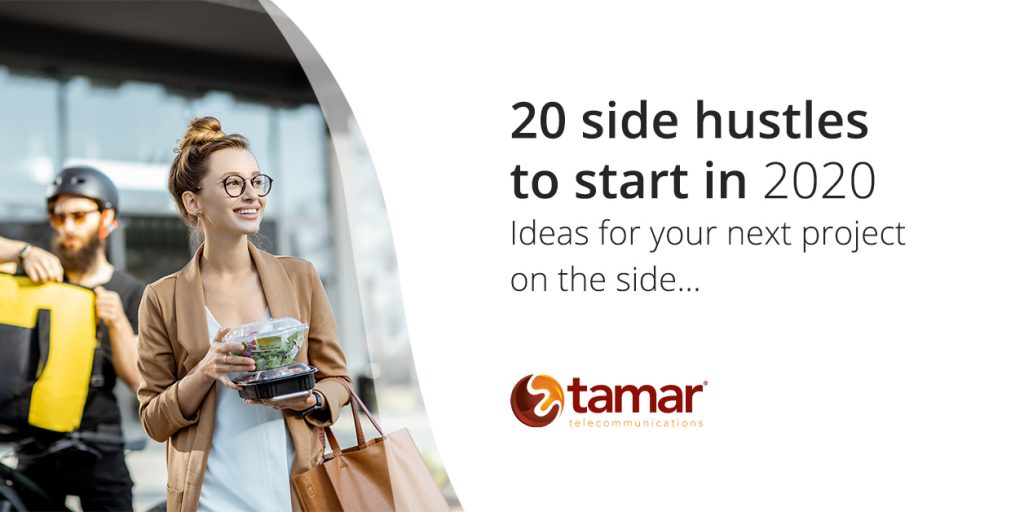 1. Bicycle courier
If you're looking for a cost-effective way to keep fit, bicycle courier work could be the perfect side hustle for you.
Food delivery giants Deliveroo and Uber Eats are the top casual employers in this field – but there's work out there delivering other goods too, especially in urban centres where heavy traffic can mean bicycles are faster than cars.
2. Tutoring
Private tutors in the UK can earn anywhere from £10-75 per hour. If you have deep knowledge of a subject or skill, you could be well rewarded for passing it on. Sites like Tutorful offer a fast route to tutoring work.
3. Bespoke artwork
If you have a talent for art – it could be as an illustrator, and animator, a painter, a sculptor – you may be able to make some extra cash by making bespoke works for friends and acquaintances. Hand-drawn portraits of people's friends, relatives and pets to give away for birthdays, Christmas and Valentine's Day are particularly popular.
4. Start a drop-shipping business
Drop-shipping is a type of online selling operation where the seller doesn't actually hold any stock: instead, they set up channels such as an online shop to sell products which are warehoused elsewhere, usually by the manufacturer. This type of business can make for a great side hustle, as it allows you to sell at high volumes without going through the rigmarole of establishing a warehouse or premises.
5. Etsy selling
If you make beautiful things or you have a good eye for a vintage gem, you could make some extra cash by setting up an Etsy store. With over 39 million active buyers, the marketplace is full of business opportunity.
6. Taxi driving
All sorts of drivers pick up occasional work with contemporary taxi companies like Uber and Lyft.
7. Dog-walking
Dog owners are increasingly aware that dogs really don't enjoy being left home alone. This is big problem for busy folk who have jobs and family to attend to. The best solution seems to be hiring a dog walker, or perhaps even a dog minder to look after a four-legged friend whose owners are on holiday. For dog lovers, there could scarcely be a more enjoyable side hustle than this.
8. Small business accountancy
Many small business owners and freelancers are reluctant to do their own accounts. If you're good with numbers, receipts and spreadsheets, there could be good money to be made by taking on the task for them. Some ad hoc accountants only work on sole traders' and small companies' tax returns; others with more experience may also be able to help with tasks like weekly payroll.
9. Babysitting/nannying
There will always be a need for reliable folk to look after busy people's babies and young children. If you love little ones, this could be a wonderful way to earn some extra cash.
10. Classes
Classes can attract an entirely different audience to tutoring, as participants will usually be motivated by the simple desire to learn a new skill, rather than working towards a qualification. Are you knowledgeable in a craft such as jewellery-making, lino-cutting or dressmaking? Or how about a different sort of skill such as computer literacy or a foreign language? Whatever you're good at, there's probably someone else out there who wants to become good at it too.
11. Run a brand's Instagram
All sorts of small businesses could benefit from posting regularly on Instagram, but many don't have the free time or knowhow to do it. This could be where you come in. Identify some local businesses – preferably ones that sell visually appealing products or services – and offer to run their Instagram account for a monthly fee. It'd be a good thing if you have a great-looking grid of your own to show them.
12. Car courier
Some of the UK's leading parcel courier services, notably including Hermes, use self-employed couriers to deliver many of their parcels. All you're likely to need is a vehicle, a driver's licence and a decent sense of direction.
13. Function band
Here's one for the musicians among you. Function bands can earn from £100 to several-hundred pounds per person for performances at weddings and corporate events. So long as you're comfortable with playing 'Superstition' by Stevie Wonder many thousands of times, this could be a fun choice of side hustle. Busking can also be a decent earner.

14. Painting and decorating
Are you a dab hand at DIY? Many of us aren't, and we could probably use some help. Advertise as a freelance painter/decorate/handyperson, and you may soon pick up work performing relatively simple tasks around people's homes and gardens.
15. Business consulting
Those of you who have experience of running a business could make good money telling other people how to run theirs. Business consulting often revolves around solving common problems. For instance, many new businesses owners struggle with how to generate a business name.
16. Translator
Parlez-vous français? ¿Hablas español? All sorts of businesses require translation from foreign languages into English. Polyglots can earn a great side income using their language skills in this way.
17. Pop-up food seller
You don't even need a stall to set up as pop-up food seller. Many food courts, bars and event spaces host pop-up dining using their own kitchens. Talk to some venues in your local area to get started.
18. Events
Turn your knack for marketing and logistics into a side hustle by putting on gigs, talks, comedy nights, film screenings, or whatever else it is that interests you and your audience.
19. Start a podcast
Creating a successful podcast takes time and effort. However, those with the time and dedication to publish podcasts regularly can build up a good income through advertising and listener contributions.
20. Do whatever interests you the most
We've discussed all sorts of side hustles in this article, but nonetheless, some readers will be left with the sense that none of this is quite right for them.
Side hustles are not just about the cash – they're also a great way to turn a personal interest into a bigger part of your life. Think about what you would really love to achieve outside of your main job, and if you can, build your side hustle around that idea. This is your free time we're talking about – it makes sense for you to spend it doing whatever interests you the most.
Hustle like a pro
Hopefully this list has given you some useful inspiration. If you are setting up a side hustle check out this article for 7 easy ways to start marketing your business. You should also consider which ways you want to connect with your customers. Setting up a dedicated email address and business phone number is a good place to start.